Academic career hierarchy demonstrates the hierarchical structure on the basis of ranks among tenured as well as non-tenured scholars in academy. The various ranks involve dean, chancellor, university professor, a lecturer, an associate professor, assistant dean, an assistant professor, assistant chancellor, provost etc.
Since the number is quite very large so these all cannot be explained here so only some of the major ranks in the academic career hierarchies, arranged from highest to lowest level, are described in brief as below in this article: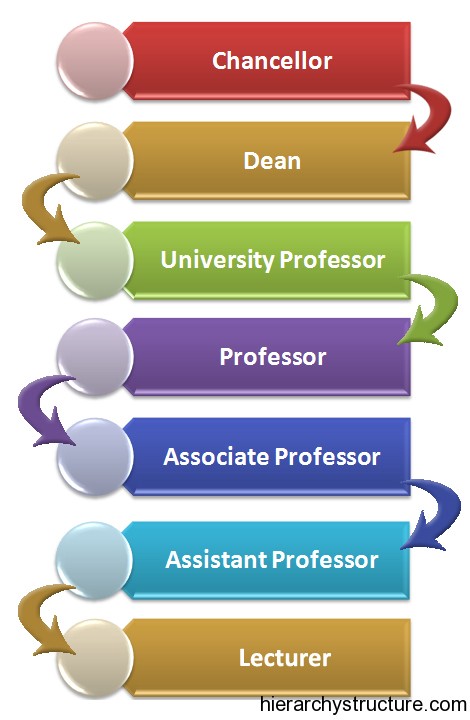 Chancellor
The highest rank in the academic career hierarchy is a chancellor, a respectable leader of a university. A chancellor is also referred as a ceremonial head or a chief executive of the university serving as a chairman of the governing body. In some commonwealth nations, a chancellor is termed a university president. They are not among the institution's faculty or other staff. They are responsible for management of the entire institution's functions and act as an effective manager.
Dean
A professional with an authority over a specified area of concern or over an academic unit is termed as a dean in academic administrations. A dean possesses various administrative duties mainly supervision of academic affairs. A dean is directed to report directly to the chancellor.
University Professor
This is the highest rank among the professors and is an honor ascribed to only tenured faculty members. This honor is assigned only to very small number of professors whose professional work and duties have attained expectant influence and distinction and who have worked covetously on the frontiers of knowledge in a specialized manner. From this level onwards, the academic career hierarchy includes the professionals who have direct relation with the students.
Professor
Professor is a Latin word which means 'a person who professes' means someone with an expertise in specific area of study and a scholarly teacher of a higher rank. This post is granted to a professional with years of vital experience and thorough knowledge of the concerned field with accomplished recognized academic skills. A doctorate degree (PhDs) is required to attain the title of a professor in academic hierarchy.
Associate Professor
The next rank in the academic career hierarchy is an associate professor, a professor senior to assistant professor but junior to a professor. This rank is among tenure track faculty.
Assistant Professor
The rank higher than lecturer and lower to associate professor is assistant professor.  These are the member of faculty and are among tenure track faculty. After years of service and experience, these professionals get promoted to associate professionals.
Lecturer
The lowest rank in the academic career hierarchy is lecturer. They can have permanent as well as temporary position in the institution depending whether they are among tenure track or non-tenure track. A lecturer can be explained as a professional who teaches at the early stage of career. Minimum of bachelor's or master's degree is required to apply for this job position either full time or part time.