An advertising agency runs advertising campaigns and plans for its clients on the basis of their requirement. Advertising covers many areas and categories like TV ads, newspaper ads, hoardings, banners and others. Within the advertising agency, there are many departments that carry out different tasks.
Within this department, there are several job positions and levels at which people work and are accordingly designated duties and responsibilities.  There is a certain job hierarchy followed in these job positions and to understand this hierarchy, you can go through the following given information.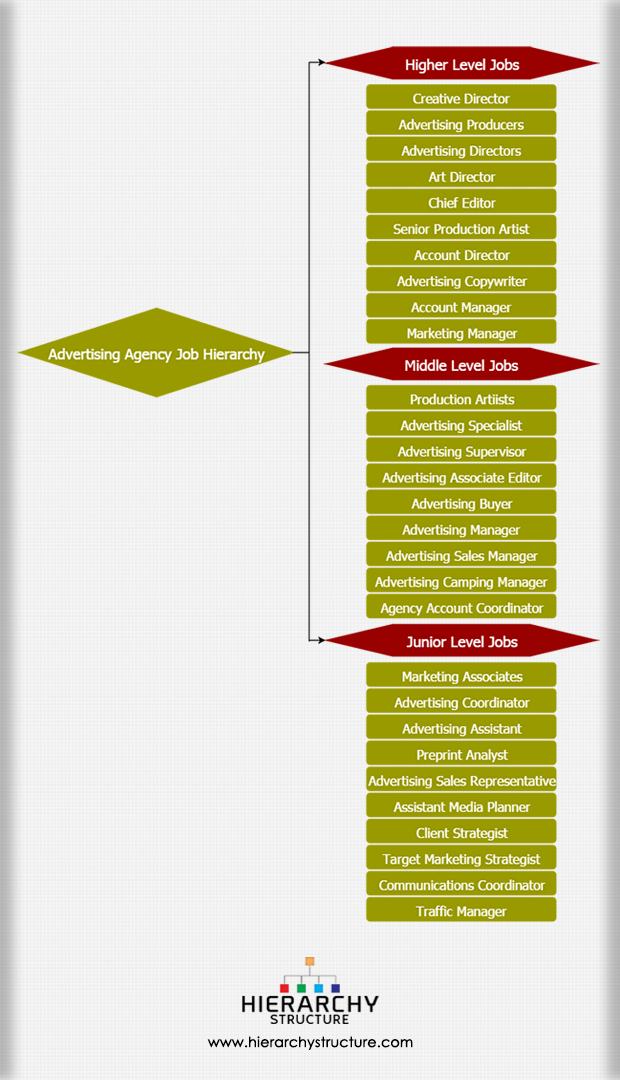 Higher Level Jobs
The first level of jobs within an advertising agency is that of those individuals who are actually responsible for the major decision making in the Advertising company. These individuals work as the core team of the advertising firm and handle the finances and administration. They plan the company's future and finalization of execution and delivery.  The following are the main job positions within this department.
Creative Director
Advertising Producers
Advertising Directors
Art Director
Chief Editors
Senior Production Artists
Account Director
Advertising Copywriter
Account Manager
Marketing agency Manager
Middle Level Jobs
The next level of jobs within an advertising agency is the middle level jobs. The middle level executives of an advertising agency are those who carry out the main execution tasks and on the instructions of the higher level executives. These individuals deal with the clients, understand their requirement, bring in new advertising accounts management and are responsible for being channels of communication in the firm.  The following are the main job positions within this level.
Production Artists
Advertising Specialist
Advertising Supervisor
Advertising Associate Editor
Advertising Buyer
Advertising Manager
Advertising Sales Manager
Advertising Campaign Manager
Agency Account Coordinator
Junior Level Jobs
The next and lowest levels of jobs in an advertising agency are the junior level jobs. This is that section of the company which is related to operational tasks. The people working on this level do creative tasks, clerical tasks and other inferior jobs. People at this level have lesser experience, lower qualifications and are placed at the entry level. The following are the main job positions within this level.
Marketing Associates
Advertising Coordinator
Advertising Assistant
Preprint Analyst
Advertising Sales Representative
Assistant Media Planner
Client Strategist
Target Marketing Strategist
Communications Coordinator
Traffic Manager