The Ancient Hawaiian Kingdom was during its period of Glory from 1219 to 1266 CE. There was a caste system on which the hierarchy of the Ancient Hawaiian civilization was formed. The people during this period depended on the nature for survival. The abundant natural resources were the main support for this densely populated civilization, which was administered by a ruling class who were the head of the social hierarchy. Given below is the hierarchal structure of the Ancient Hawaiian civilization: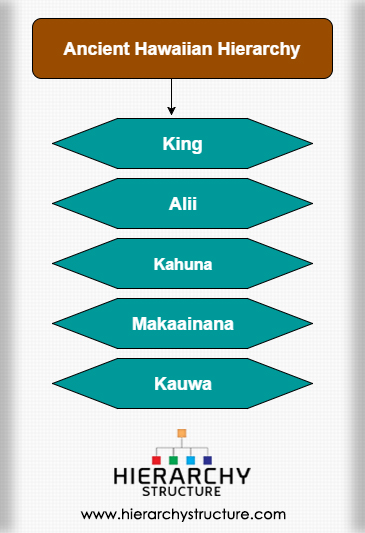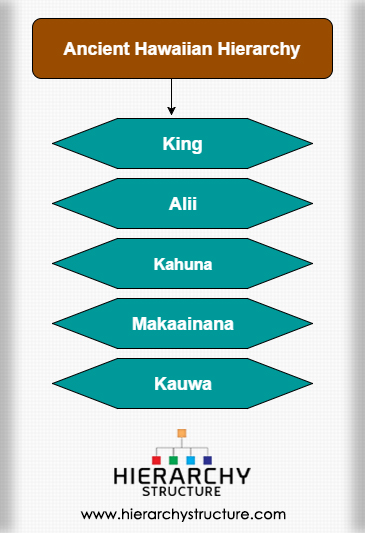 King: The king was the controller of the entire civilization. He had the responsibility of administering the kingdom and looking after his subjects and their protection. He was the ultimate owner of all the annual taxes and used to act as the leader and the decision maker during the times of war.
Alii: The Alii was the one who held the highest chiefly rank. They were directly junior to the King and were given the responsibility of looking after the execution of the orders given by the king. They used to take care of the king by looking after his needs and entertaining him too. They used to look after the well-being of the areas allotted to them and ensure that everything is functioning according to the prescribed law and order.
Kahuna: This class consisted of priests and religious leaders who were respected by the entire society. This class also included master carpenters and artistic experts, chanters, physicians, healers and dancers. These were the people who were holding expertise in their own fields.
Makaainana: This class consisted of the commoners, who were the maximum in number. They were farmers, fishermen, and simple craftsmen. They used to work in order to support the needs of the Chief and the Kahuna class. They were the main tax payers of the kingdom and were answerable to the Alii as well as the Kahuna class. They were supposed to follow the rules made by the King.
Kauwa: This was the lowest class in the ancient Hawaiian hierarchy. They were war prisoners or descendants of them. They were not at all allowed to get married to people of any other higher castes. They used to work for the chiefs, often as slaves and were also used for human sacrifices. They used to work in the fields, and were given the tasks of rigorous labor work and were often not allowed to get access to basic rights which other classes used to get.
This is the structure of Ancient Hawaiian Kingdom Hierarchy. Also know about Ancient Athens Social Hierarchy.