A renowned multinational tech company, Apple Inc. is American by origin and has it's headquarter in the Cupertino region of California. The entity designs products, develops them and sells products like computer software, consumer electronics and other online services worldwide. The company was found in April of 1976 by Steve Jobs, Ronald Wayne and Steve Woznaik. The Apple management hierarchy refers to the top tier management structure of the company. Until 2011, co-founder Steve Jobs was at the top of the management hierarchy. The present Apple management hierarchy is elaborated on below: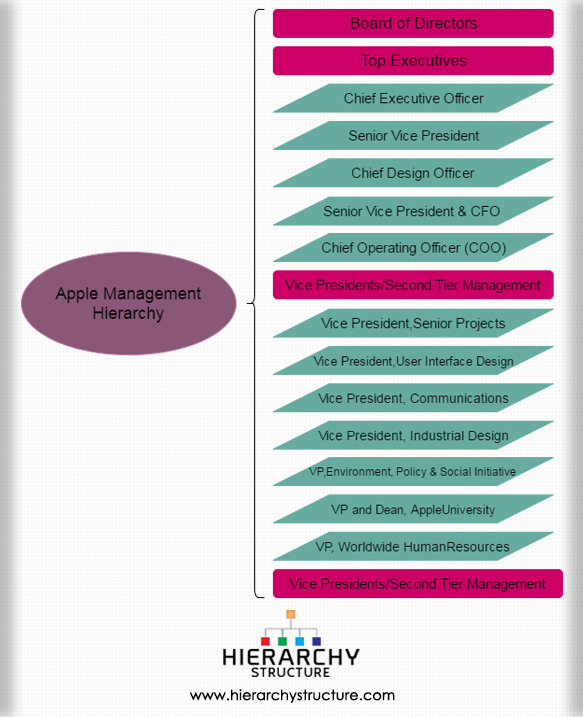 Board of Directors:
At the top of the management is the board of directors who have the highest amount of power and most on the line over the success of the company. The board includes the CEO of the company, the Chairman of the board and other eminent corporate individuals with considerable share in the company's equity.
Top Executives:
Next on the line of the apple management hierarchy, second only to the BOD, is a chain of executives managing the company. The list of executive positions in this tier of management includes-
Chief Executive Officer
Senior Vice President, Retail & Online Stores
Senior Vice president, Internet Software & Services
Senior Vice President, Software Engineering
Chief Design Officer
Senior Vice President & CFO (Chief Financial Officer)
Senior Vice President, Hardware Engineering
Senior Vice President, Worldwide Marketing
Senior Vice President and General Counsel
Senior Vice President, Hardware Technologies
Chief Operating Officer (COO)
The CEO and the Senior VPs are all directly answerable to the board of directors. But there is a point of difference between the CEO and the Senior VPs in the list of executives, which is, the Senior VPs are also liable to report to the CEO; even though they are all in the top tier of management.
Vice Presidents/ Second Tier Management:
The next in the list of Apple management hierarchy are the Vice President positions. The individual VPs have considerable freedom but are all ultimately required to report to the senior VPs and the CEO. The said VP positions include the following:
Vice President, Senior Projects
Vice President, User Interface Design
Vice President, Communications
Vice President, Industrial Design
Vice President, Environment, Policy & Social Initiative
Vice President and Dean, Apple University
Vice President, Worldwide Human Resources
Naturally, the VPs are assisted by a team of other manager and executives.
Third Tier Management:
The teams which assist the above mentioned VPs consist of the positions which make the third tier of the Apple management hierarchy. The number and the kind of managers/ executive which make up the teams of these VPs depend on the nature of the respective department they are heading and the requirements within. The hierarchical division at this level is done on the basis of the products in the Apple rooster.
All in all, the apple management hierarchy is said to be based on the spoke and wheel approach, where the CEO is at the center of all operations.
Know more about Management Hierarchy.