An auditor is a person who is hired or appointed by a company to execute or perform an audit.  In order to become an auditor and to handle responsibilities related, one must be certified by the regulatory authority of auditing or accounting of that state or country.
He/she must also possess all the related qualifications. The two main types of auditors are internal auditors and external auditors but besides this, there is a certain hierarchy of positions within this field. This means that one moves onto the ladder of this field by gaining experience at each step. The following is a detailed audit job hierarchy for your reference.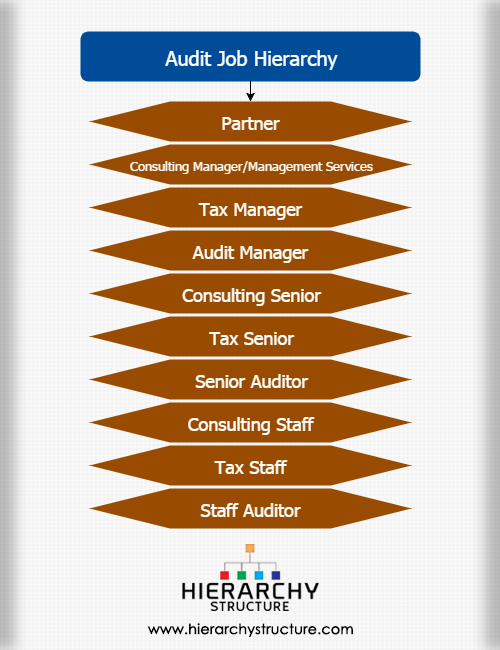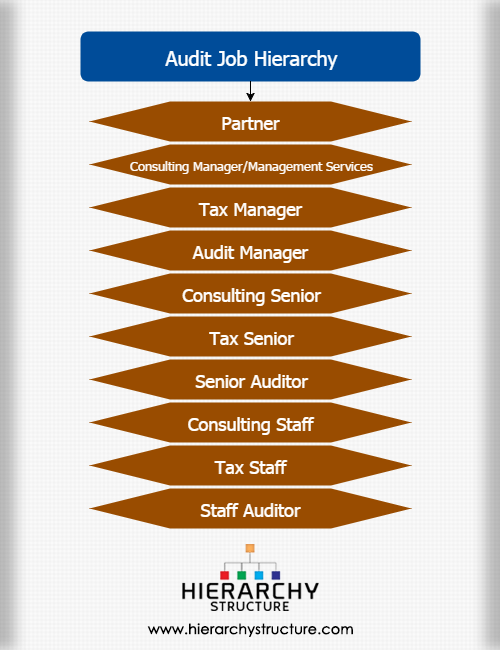 Partner
This is the highest position one can reach to in the field of auditing. The partner is the boss or head of the audit company and handles all major decisions related to it.  In some firms, some partners may be referred to as senior or founding partner if they were responsible for establishment of firm.
Consulting Manager/Management Services
Any auditor who has spent more than 6 years in the field of auditing can move onto the position of a consulting manager within an auditing firm. These individuals are required to maintain direct contact with corporate personnel and are responsible for internal control procedures like operational budgets, business financing etc.
Tax Manager
A tax manager is the one who directs and reviews staff and senior tax staff and is responsible for approving corporate tax returns.  They do tax planning for clients and individuals as well. These individuals must have atleast 6 years of experience to work at this post.
Audit Manager
An audit manager is a high level executive in the field of auditing who supervises the seniors and the staff members. He is responsible for handling day to day tasks of the company and to make sure that everything is working smoothly within the organization or department.
Consulting Senior
A consulting senior works under the general direction of a manager or partner and supervises detailed consulting assignments within the organization of the client.
Tax Senior
A tax senior is one who works under the supervision of the tax manager or the tax partner and is responsible for preparing or reviewing tax returns for individuals and companies.
Senior Auditor
A senior auditor has 3-6 years of experience and works under the directions and supervision of the audit manager. He gives details of assignments to the staff, gives directions to the audit field work and also reviews working papers on a regular basis.
Consulting Staff
These individuals possess 1-3 years of experience and do many management and consulting advisory tasks.
Tax Staff
With 1-3 years of experience, these individuals prepare tax returns, research on tax questions and counsel clients on the various tax problems which they may have.
Staff Auditor
This is an entry level position where the individual usually possesses about 1 year of experience and one who works on it is responsible for performing detailed work of financial audits under a senior's supervision.
Know about Job Hierarchy structure : Click here