Legal systems are the integral part of any country and vital too in order to establish peace & order in the country too. Australian legal system hierarchy has a complicated court system. Besides the Federal courts, every State and Territory has its individual court hierarchy. In a basic sense, Australia has a distinct system. The other Supreme Courts are not subjected by the verdicts of the Supreme Courts in different States or Territories. They share same court of appeal and the High Court of Australia.
In Australian legal system hierarchy, there are two divisions of the courts which are the federal division and the state & territory division. The federal courts system and the state and territory court system are separate. The Australian High Court is the final court of appeal in the Australian court system.
The Australian legal system hierarchy is shortly elucidated as below in the chronological order starting with the highest level court of the hierarchy and ending with the lowest level: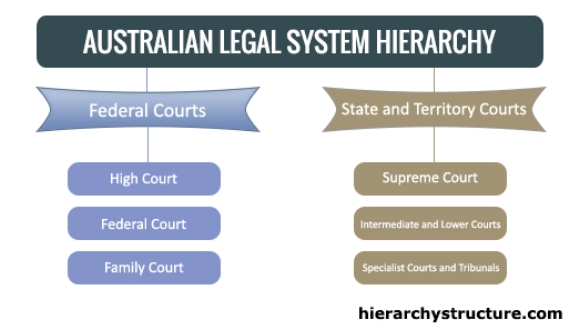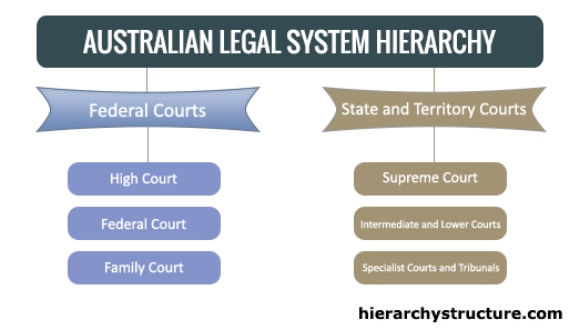 Federal Courts
These Australian courts have the authority over the law made by the Australian Federal Parliament. It comprises as follows:
High Court – In Australian legal system hierarchy, the High Court is the uppermost court. It is the final court of appeal from all other state superior courts. The appeals made to the High Court are by a special leave only and it is very rarely granted.
Federal Court – The Federal Court mainly hears issues related to trade practices, corporations, industrial relations, customs, bankruptcy, immigration etc. The verdicts of the High Court are obligatory on the Federal Court.
Family Court – It deals with the family lawsuits such as parental disputes, marital properties, child support and laws related to family.
State and Territory Courts
In Australian legal system hierarchy, every state and territory has its own court. The authority of every court varies from state to state and from territory to territory. The state and territory courts at times exercise federal authority on issues related to federal legislation. It comprises as follows:
Supreme Court – The higher court in every State or Territory is called the Supreme Court. It has authority over some original and appellate cases. It deals with both the criminal and civil matters.
Intermediate and Lower Courts – There are generally two types of courts under the Supreme Court in every State or Territory. These are County or District Courts and Local or Magistrates Courts. A judge generally supervises a District Court whereas a magistrate or a justice supervises a Local Court.
Specialist Courts and Tribunals – The States and Territories have also some specialist courts. These specialist courts comprise the Children's Court, the Drug Court, the Coroner's Court and the Industrial Relations Commission. The State also has a variety of tribunals such as Dust Diseases Tribunal, Administrative Decisions Tribunal, Government and the Related Employees Appeal Tribunal, Mental Health Review Tribunal, Guardianship Tribunal, Residential Tribunal and many others.