Ballet is one of the most popular forms of dance and expressing of emotions through body movements. There are many ballet schools across the world and these schools are often termed as ballet companies.  They may contact dancers at different levels and then train them to showcase a performance.  Ballet companies may hire dancers on a contractual basis and the entire company runs on a certain hierarchical structure and composition.  The following is a detailed hierarchical anatomy of a ballet company with its various job positions.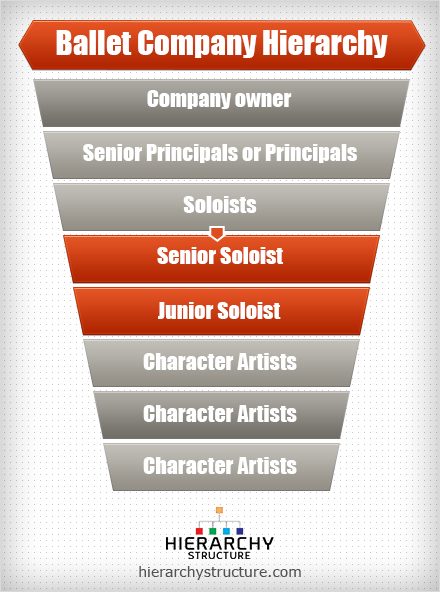 Company Owner
The topmost position in a ballet company is held by an owner who owns the company and started it off initially. The owner is responsible for the entire operations, governance and even hiring of dancers and trainers in the company.
Senior Principals or Principals
Principals or senior principals are basically the stars of the ballet company or the performances.  They appear in leading roles in the performances and any number of principal dancers can be hired on contract basis by the company owner.
Soloists
In a ballet company, the term soloist is used to refer to those who dance solos and may often learn principal roles as understudies. These individuals are further divided into certain positions varying from company to company.
Senior Soloist -the senior most or most experience soloist working for a ballet company
Junior Soloist -the understudy of a senior soloist who is new to the job and is still in the training phase.
Coryphées
These are those professional dancers working for a ballet company who have been promoted to a higher first rank from soloists. They are mostly the star performers or are given solo parts because of their experience, expertise, skills and other qualities.
Corps De Ballet
Corps de ballet is a term which is used to refer to the artists that perform in a ballet. These dancers are ranked at the lowest level of the hierarchy of a ballet company and there is multiple corps de ballet in every company.  Many dancers remain at this same level for their entire careers.
Character Artists
Character artists are respected senior members of a ballet company and perform various characters and roles which require a lot of acting as well besides dancing.  One of the famous examples of a character artist performing a character is that of the role of a nurse in the classical ballet Rome and Juliet.
Know about company hierarchy