The Boston Police Department came into existence in year of 1838 and is the nodal agency entrusted with the esteemed task of ensuring the proper enforcement of law and order in the city of Boston, Massachusetts.
The Boston Police Department is organized into zones and each zone is headed by a Deputy Superintendent level appointee and further each district in the zone is controlled by a captain.
The Boston Police Department is headed by the Police Commissioner and the office of police commissioner has been relegated into various bureaus to make the functioning smooth and effective.
The Police commissioner's office also houses the office of Chief of Staff, Public Relations department and Boston Regional Intelligence Center (BRIC).Boston Police Hierarchy also comprises of the field operations units responsible for policing and law and order maintenance in the city, the forensics investigation unit, the special operation unit, homicide unit, and narcotics control unit.
The Boston police hierarchy in the higher to lower ranking of their officers & officer designations is as follows: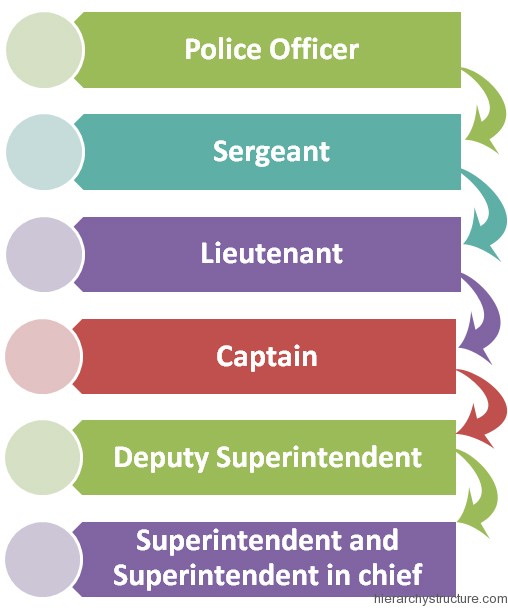 Superintendent in Chief / Superintendent of Police
Deputy Superintendent of Police
Captain
Lieutenant
Sergeant
Police Officer
Police Officer
A police officer is an entry level cadre in the Boston police hierarchy. A police officer is entrusted with the basic policing responsibility. Parallel to police officer is the rank of a detective in the investigation unit. A detective e is generally entrusted with basic investigations in the unit.
Sergeant
The next in line promotion for a police officer is the grade of a sergeant or sergeant detective in case of detective. The official on this grade is generally entrusted with supervisory assignments and more complex investigations or operations.
Lieutenant
After serving satisfactorily for a certain period of time, a sergeant can get escalated to the cadre of a lieutenant. A lieutenant is generally responsible for the operations of a specific team in the zone such as patrolling unit, homicide unit etc. lieutenant reports into the captain of the zone.
Captain
A captain is the personnel responsible for maintaining law and order in his/her zone. In his specific zone a captain is directly answerable for operations of law maintaining units and agencies such as traffic enforcement, patrol unit, homicide unit, and criminal investigations etc. A captain reports into the deputy superintendent.
Deputy Superintendent
A captain is eligible for the promotion of a deputy superintendent after a fixed stint of unblemished service. A deputy superintendent is responsible for efficient police operations in his respective district. Apart from field operations he is also responsible for all the administrative tasks of the district.
Superintendent and Superintendent in chief
These are the highest echelons of the Boston police hierarchy. Responsible for the overall operation and management of the police department these officials report into the police commissioner and are responsible for effective running of their functional bureaus.
The Boston police hierarchy aims at the smooth operation of the police department and protecting the interest of the citizens.
Know about California police hierarchy