British Airways is the largest airline of UK in terms of the size of the fleet and is the United Kingdom's flag carrier. The airline, one of the top airlines in the world, is based in the Waterside region, near the Heathrow Airport, London. The management of the company is in the hands of the company CEO- Willie Walsh who heads the whole of the management team. The management team and its hierarchical structure at the British airways can be split into four segments.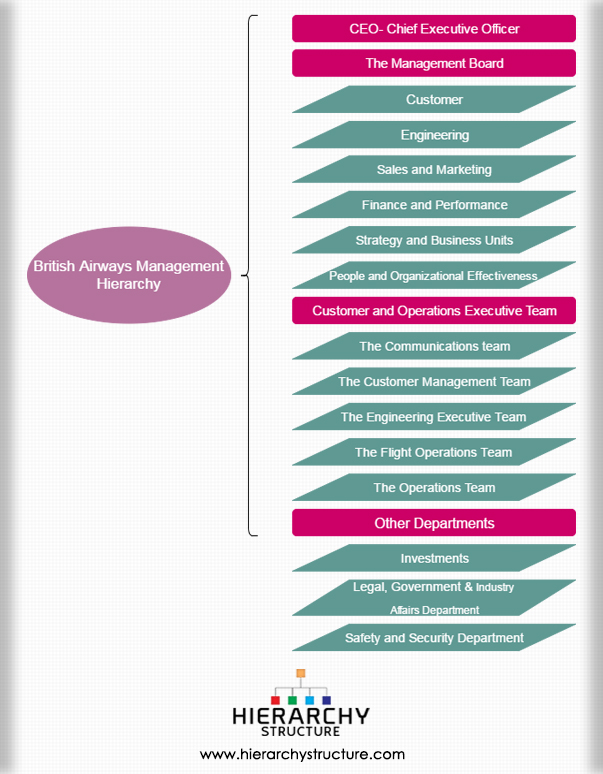 CEO- Chief Executive Officer
At the top of the management hierarchy, which is made of four essential components is the CEO. He/ she are responsible for the overall functioning of the company. The other three components/ segments of the British Airways management hierarchy are supposed to report to the CEO of the company.
The Management Board
The overall functions of the company are divided into different departments. The names of these departments are-
Customer
Engineering
Sales and Marketing
Finance and Performance
Strategy and Business Units
People and Organizational Effectiveness
The management board at the British Airways consists of directorial positions based on these departments. The said positions include-
Director of People and Organizational Effectiveness
Director of Investment & Alliance/ Director of Finance & Performance
Customer Director
Director of Engineering
Director of Sales & Marketing
Director of Strategy and Business Unit
These directors in the management board are responsible for the overall functioning of the respective departments. The directors are required to the report to the CEO of the company. They are assisted by teams of other executives etc. to ensure smooth functioning of entire department.
Customer and Operations Executive Team
The customer and operations executive team at the British airways consists of profiles that are put in place to monitor and manage certain specific departments. This team of executives is hence further divided into teams based on the names of different sub-segments/ departments. The names of the sub-teams are:
The Communications team
The Customer Management Team
The Engineering Executive Team
The Flight Operations Team
The Operations Team
Each of the above mentioned teams consists of further divisions of management in between managers and senior manager positions. There is an assigned head of the team who is required to the report of the respective Director in the Management board and the chief executive officer as well.
Other Departments:
The third and the last segment of the British Airways management hierarchy consist of three other departments left unrepresented in the COE team and the Management board. The names of these three crucial departments are-
Investments
Legal, Government & Industry Affairs Department
Safety and Security Department
Each of these three departments have an assigned head who is assisted by the number of manager and senior managers depending upon the operations involved in the department's functioning's. Each of the department heads are directly liable to report to the chief executive officer of the company.