Promoting a business is very important in order to make it successful. The business promotion has a particular hierarchy with the help of which you can undertake the promotion activities. You need to keep the considerations related to the money to be spent in mind while planning the business promotion. The AIDA model is one of the most famous business promotion hierarchy models which is helpful for business owners for deciding the way to promote their business, products and services. The AIDA model gives four levels to measure the effectiveness of business promotions. Read below: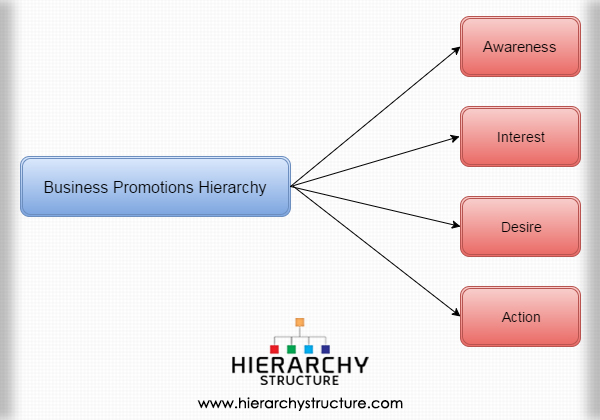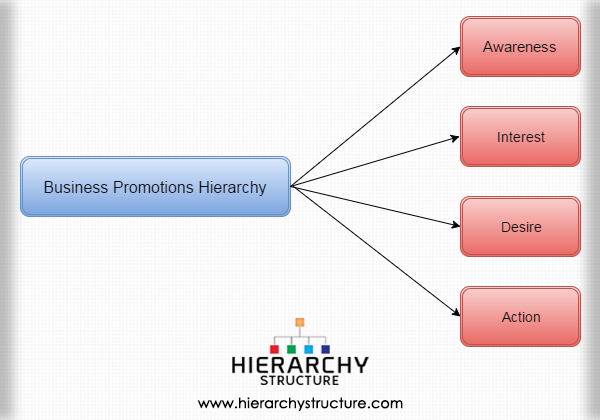 Awareness: It is the most important aspect in the business promotion hierarchy. In this case, something is used in order to attract the reader or viewer's attention as he is your target audience. In a print ad, a photograph or illustration might be used and in case of a commercial, it might be various sounds as well as voice overs which can be used. Making the target audience aware about your business is the most important step to promote it.
Interest: The second most important aspect of a business promotion hierarchy is to develop a business interest about your product in the minds of your target audience. You can provide some information like details, price and availability, special offers, discounts and other USPs and uses of the product of your business so that people get interested to know more about it and consume it as well.
Desire: Something should be used in order to make the consumers desire the product. You can probably use a celebrity in your commercial if your budget allows you to do so. In addition to this, you can use images or thoughts in the ad which tell the target audience why this product is so useful for them. Suggest the benefits of the product of your business so that the audience develops a desire to pay for your business.
Action: You can do something with the help of which your target audience acts immediately. You can may be keep a discount and set a time limit for it or else have a sale price for your products so that people tend to buy it more. You can also get in a limited edition of your product so that it gets promoted even more and people buy it. This is a business promotion strategy which you can use when the above three do not turn out to be effective.
This is the structure of Business Promotion Hierarchy. Also know about Small Business Management Hierarchy.