The Canada Police Hierarchy is organized under the authority of RCMP act. RCMP stands for Royal Canadian Mounted Police. The whole Canadian Police organization is headed by the Commissioner. The Commissioner is directed by the Public Safety Minister of Canada. The Commissioner controls and manages the whole Police force and all the matters connected with the force. The Canadian Police is unique in the world as a federal, municipal and provincial policing body. As the National police force of Canada, the Royal Canadian Mounted Police is responsible for enforcing the federal laws throughout Canada.
The two most populous provinces of Canada namely Ontario and Quebec maintain their own provincial forces i.e. Ontario Provincial Police and Surete du Quebec. The Royal Canadian Mounted Police has taken over the policing responsibilities of the rest eight provinces. The RCMP is responsible for a wide range of duties. The federal operations of RCMP include:
Enforcing federal laws including commercial crime.
Enforcing laws including drug trafficking, border integrity, organized crime and various other matters.
Providing counter-terrorism and domestic security.
Providing protection services to the Governor General, Prime Minister, Monarch and other ministers of the Crown.
Participating in the international policing efforts.
According to the Canada Police Hierarchy, the Royal Canadian Mounted Police is categorized into the following ranks: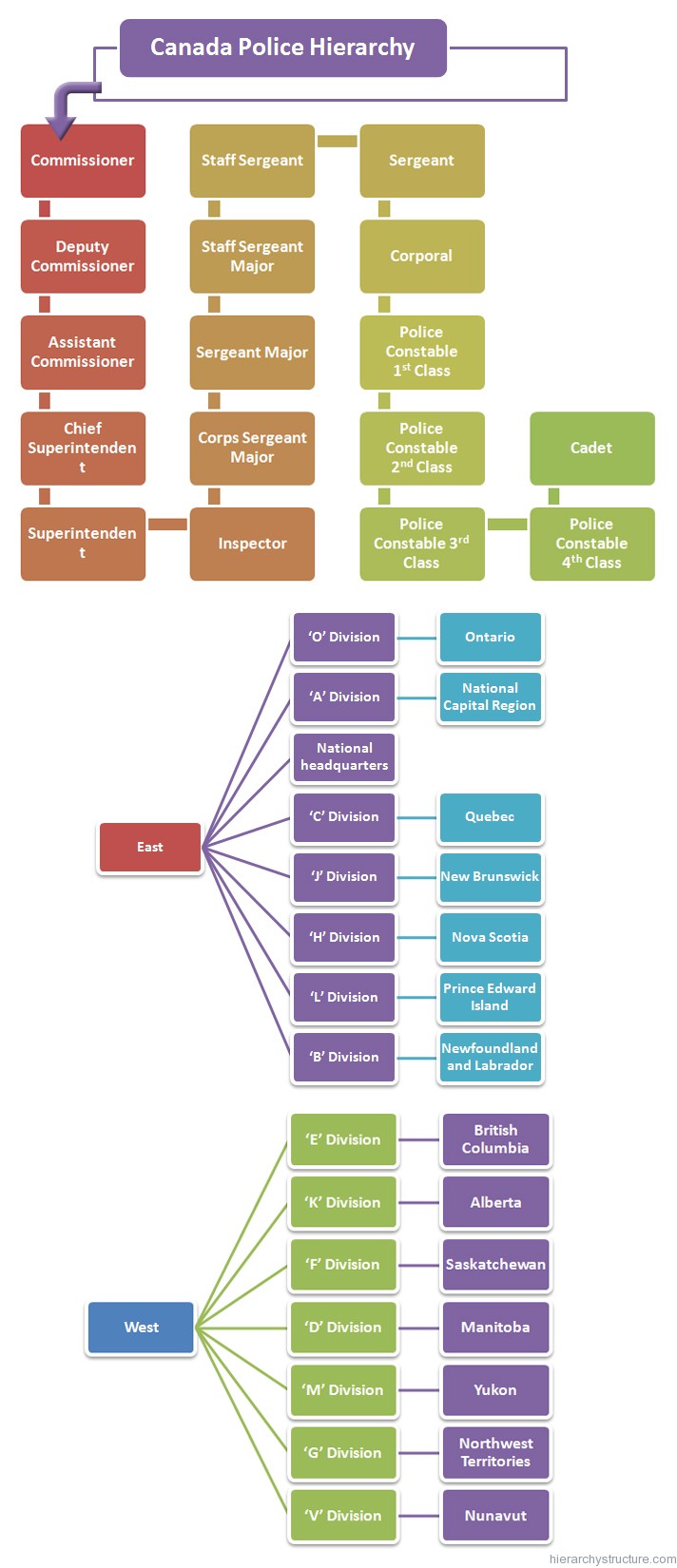 Commissioner
Deputy Commissioner
Assistant Commissioner
Chief Superintendent
Superintendent
Inspector
Corps Sergeant Major
Sergeant Major
Staff Sergeant Major
Staff Sergeant
Sergeant
Corporal
Police Constable 1st Class
Police Constable 2nd Class
Police Constable 3rd
Police Constable 4th Class
Cadet
The whole force is divided into fifteen divisions such as:
East
'O' Division- Ontario
'A' Division- National Capital Region
National headquarters
'C' Division- Quebec
'J' Division- New Brunswick
'H' Division- Nova Scotia
'L' Division- Prince Edward Island
'B' Division- Newfoundland and Labrador
West
'E' Division- British Columbia
'K' Division- Alberta
'F' Division- Saskatchewan
'D' Division- Manitoba
'M' Division-Yukon
'G' Division- Northwest Territories
'V' Division- Nunavut
Now, we will discuss the Canada Police Hierarchy or the organizational structure of Royal Canadian Mounted Police according to the roles and responsibilities maintained by them:
Commissioner
Deputy Commissioner, Federal Service and Central Region
Manages the 'A', 'O' and 'C' division.
Controls the federal and international operations.
Performs the National security criminal investigations.
Protective policing.
Deputy Commissioner, Operations and Integration
Handles the following departments:
Contract and Aboriginal Policing.
Criminal Intelligence Directorate.
Strategy Policy and Planning Directorate.
Deputy Commissioner, Specialized Policing Services
Handles the following departments:
Canadian Firearms program.
Canadian Police College.
Criminal Intelligence service.
Forensic Science and Identification Services.
National Child Exploitation Coordination Centre.
Technical Operations.
Deputy Commissioner, Corporate Management and Controllership
Handles the following divisions:
Asset Management.
Finance.
Procurement ad Contracting.
Office of Comptrollership and Modernization.
Deputy Commissioner, Atlantic Region
Manages the 'B', 'H', 'J' and 'L' divisions.
Deputy Commissioner, North West Region
Handles the 'D', 'F', 'G', 'V','K' and 'Depot' division.
Deputy Commissioner, Pacific Region
Manages the 'E' and 'M' divisions.
The total strength of Canadian Police is approximately 29, 235 including all the personnel of different grades.
Know more about San Francisco Police Department: Click here