The Chinese Animal Hierarchy is based on the Chinese Zodiac story, which is very famous in the Zodiac culture of China. There are 12 animals which represent the rotating 12 years cycle, which is a traditional calculation of the age of Chinese people. This rank of 12 animals is the first reference used when it comes to calculating the animal year in which you were born. Below given is the Chinese Animal Hierarchy with the rat as the first and the Pig as the last.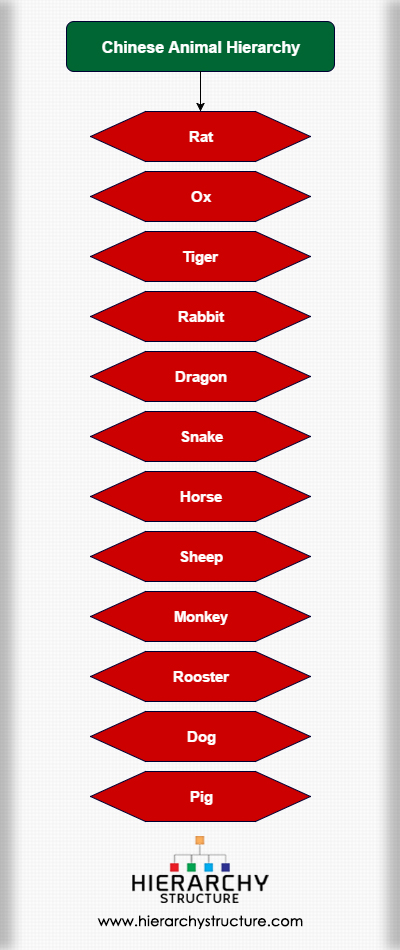 Rat: The people born under the rat sign are considered to be aggressive and ambitious. They are also imaginative and generous when it comes to love and friendships.
Ox: People born under this sign are said to be very stubborn. They are very upright, hardworking and inspiring. They are said to become wonderful parents as well.
Tiger: People under this animal sign are powerful, aggressive, charming and courageous. They like to seek adventurous and be care free in life.
Rabbit: People under this animal sign are said to be very quick, talented and elegant. They are very quiet, ambitious and conceited. They often become successful in business because of their personalities.
Dragon: Dragon is a very famous animal Intelligence in the Chinese culture. They are considered to be very clever, passionate and determined. They are successful and full of vitality and enthusiasm. They are the people who become popular easily.
Snake: People born in this period of time are considered as clever, passionate, determined, intense and romantic. They are said to be very wise and charming too. They believe a lot in their own intuitions.
Horse: People born in this year are said to be very hardworking and straightforward. They are very intelligent and friendly. They like to be adventurous and they always want to live in freedom and not according to someone else's choices
Sheep: The people born in the period of the sheep are said to be artistic, passionate, elegant and warmhearted. They find solution to every problem by themselves and do not bother everyone else much. They are very pessimistic and timid in nature.
Monkey: Those who are born in these years are said to be successful in whatever they do. They are said to be multi-talented and very intelligent and quick in performing the given tasks.
Rooster: People born in the years of the Rooster are said to be courageous, faithful and hardworking. They are very skillful in whatever they do and are often very careful while doing important tasks.
Dog: Those who are born in the years of the dog are said to be limitlessly loyal, honest and faithful. They are said to be smart, dedicated and brave and often have success coming their way easily.
Pig: Those who are born during the years of the Pig are said to be honest, simple and reliable people who are very shy, affectionate and kind. At the same time, they are also very short tempered and impulsive. They have a large interest to gain more and more knowledge.