After understanding the basic nature of the organization, it become clearly evident that corporate development is an inseparable aspect of the organizations and most of the organizations consider corporate development as their mission and objective. The individuals who are associated with corporate development, its planning and execution at various echelons of the organization formulate the corporate development hierarchy.
When we observe the current corporate structure scenario or culture, it signifies that the organizations nowadays are becoming more and more complex & challenging. Corporate development can be defined as the organization wide planned efforts, strategies and policies focusing on enhancing the organizational effectiveness. The individuals, who plan, implement and maintain the corporate development activities within the organization are as follows in the hierarchical format from top to bottom: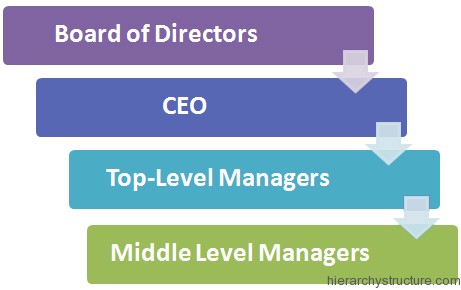 CEO
Top-Level managers
Middle level managers
Board of Directors
The board of Directors of an organization is responsible for giving a vision to the organization's top managers. These with the senior most personnel of the organization work out on corporate development strategies and planning in the context of the vision statement. Through a clearly defined vision, the board of directors along with the top professionals develops a viable, coherent and shared understanding of the goals, objectives and policies of the organization. The implementation of these development objectives and goals can initiate the organization's desired development in the right direction.
CEO
A CEO / President / Managing Director / General Manager constitute the second level of the corporate development hierarchy. The CEO or the President of the organization are responsible for fragmenting the vision of the organization and for creating the development policies for the improvement of the organization's visioning, empowerment, learning & problem solving processes through an on-going corporate development and collaborative management.CEO with Board of Directors and major stockholders is responsible for strategic planning activities to achieve corporate development and to work out on the ways with which organization will cope with the changing environment keeping the development process alive.
Top-Level Managers
Beneath the CEO, lie the top level managers in this hierarchy. They are responsible for shaping the implementation process for polices and goals formulated for corporate development at upper levels of the hierarchy. These are the personnel who draw guidance from the vision statement of the organization and define critical long term objectives for the employees of the organization. Their responsibilities also include the critical analysis of the available resources and define their role in the accomplishment of the organization objectives. The senior managers also work on the objectives that hail from the aspects like profitability, market share and quality assurance, and formulate the policies to achieve these objectives.
Middle Level Managers
Their major task is to diagnose the policies, objectives and goals and translate them into specific measurable outcomes with clearly stated timeframes. The major task of middle level managers is to recognize the development objectives pertaining to their department & area of specialization and work in the right direction to achieve them.