Before discussing about the corporate management hierarchy that is being prevalent in most of the organizations, let's talk a bit about the importance of a definite hierarchy in an organization. An organizational hierarchy is developed for the benefit of both the employees and the employer.
An organization is made up of different departments and a proper coordination between the departments is crucial for the overall success. A hierarchy directly or indirectly helps in maintaining the coordination between the different departments through the proper flow of information.
The hierarchy also provides a clear path for the employees in order to excel in their respective field, which ultimately leads to the productivity of the organization. Through an efficiently managed hierarchy, it becomes very easy to communicate the messages of the employees to the Board of Directors and in this way; sustainable development of the organizations could be possible.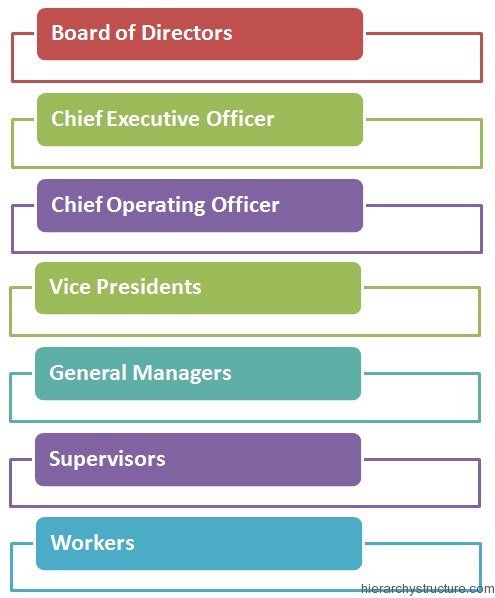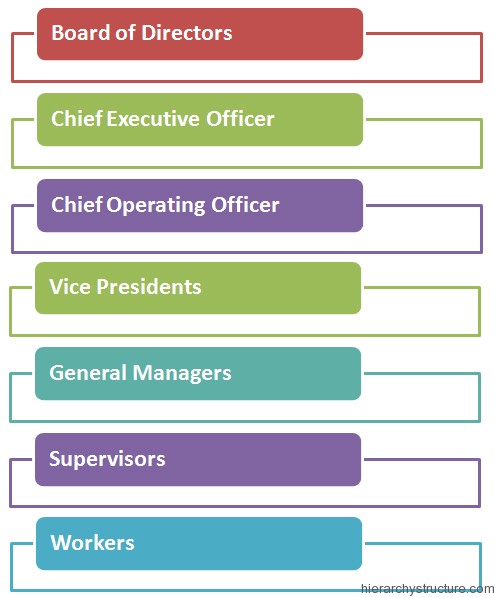 Board of Directors
The Board of Directors holds the highest position in the corporate management hierarchy. The board manages the overall operations of the organization. All the members of the board attend the committee meetings at regular intervals of time, provide their views in the decision making process of the board, analyze the various monthly reports and establish the job roles for the responsible officers and employees of the organization.
Chief Executive Officer
The chief executive officer (CEO) performs various key tasks for the organization. S/he develops various strategic plans so as to implement the organizational decisions as set forth by the board of directors. The officers ensure that all the activities and operations performed by the organization are in accordance with the terms and conditions mentioned by the shareholders.
Chief Operating Officer
The chief operating officer (COO) assists the CEO in various activities. The officer evaluates the long term and short term goals of the organization and participates in the various quality improvement projects of the organization. They undertake the various projects as directed by the chief executive officer.
Vice Presidents
The vice presidents are associated with the different departments of the organization such as sales and marketing, operations and Human Resource Management  etc. Based on the specific departments, the job responsibilities of the vice presidents vary. Generally, the vice presidents develop plans to effectively distribute the services among the customers so as to ensure customer satisfaction.
General Managers
The general managers oversee the specific departments of the organization and they set realistic goals related to each department. They make business presentations from time to time so as to communicate with the chief executive officers.
Supervisors
The supervisors can also be referred to as team leaders. They act as a manager for a particular short term or long term project and assist a group of workers in order to complete the task with the maximum efficiency.
Workers
The workers or the general employees form the basic level of the  management hierarchy and they are associated with different types of job roles according to their skills and expertise.