Victoria is a state in south eastern part of Australia and is also the country's most densely populated state.  In order to implement laws and see to it that they are properly followed, the state makes sure it has proper courts of law in place and placed in a hierarchical order or structure.
There are various levels of courts-from state courts to tribunals.  Courts are placed in terms of their seniority and jurisdiction over matters and if you wish to understand the court hierarchy of Victoria better, you can go through the following given information.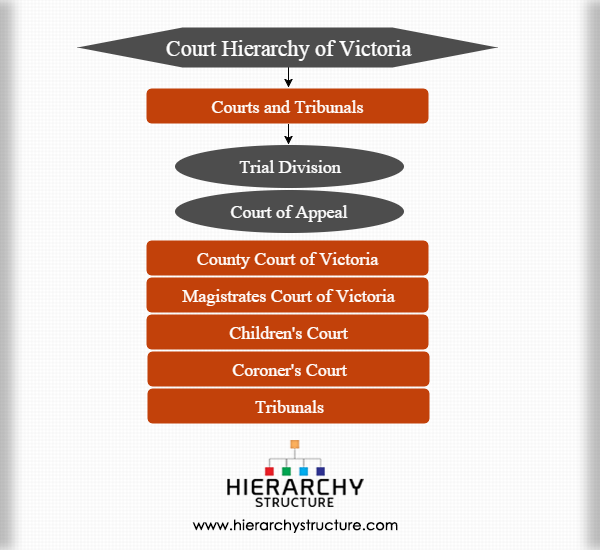 Courts and tribunals
The supreme court of Victoria is the highest level in Victoria and is the one which mainly deals with some of the serious cases of crime. It also deals with complex cases in the civil division.  This court has two main divisions:
Trial division-this is the court which hears only very serious kind of criminal matters such as murder, attempted treason and murder and civil cases related to major issues of money or complex legal matters.
Court of appeal-this is the court which hears appeals from the trial division of the Supreme Court and other Victorian courts and tribunals.
County court of Victoria
This is the court which sits in the middle of the hierarchy of courts in the state and comes above the magistrate court and below the Supreme Court. This court hears criminal, civil and criminal appeal matters. It also hears more serious criminal cases than the magistrate's courts like drugs, robbery, sex offences and dangerous driving.
Magistrates court of Victoria
This is the court which is headed by chief magistrate but is the lowest court in the Victorian hierarchy. This court handles both civil and criminal matters. There are no juries in the magistrates court where each case is determined by a single magistrate.
Children's court
This is the court which handles criminal offences and welfare matters related to children and young people who are under the age of 18. It has two main divisions which are family division and criminal division.
Coroner's court
This is the court which is responsible for investigating on reported deaths as well as fires. A coroner however cannot make findings as to criminal, innocence and guilt liability.
Tribunals
These courts are created by both state and federal legislation. The main advantage of tribunals is that they are slightly less expensive and less time consuming.
Know about Victoria Police Hierarchy.