The responsibility of the German education system mainly lies with the states whereas on the other hand, the federal government plays only a small role in it. From the age of 2 to 6 years, kids can be sent to kindergartens which are an optional education level.
After kindergarten, the school education is compulsory for all children in Germany and this level of education goes until 12th grade. Then the next level of education is tertiary education which is the higher level education that again is not compulsory. To understand the education hierarchy in Germany a little more clearly, kindly read the following given details: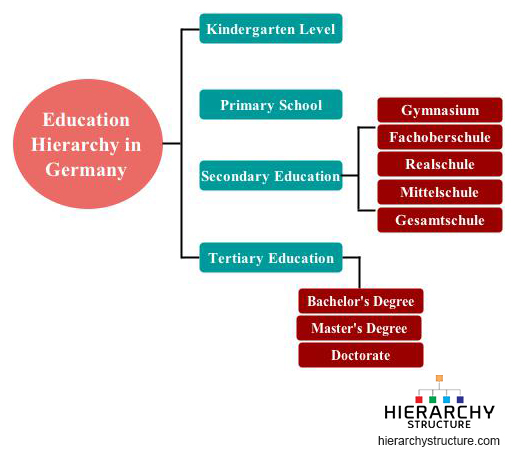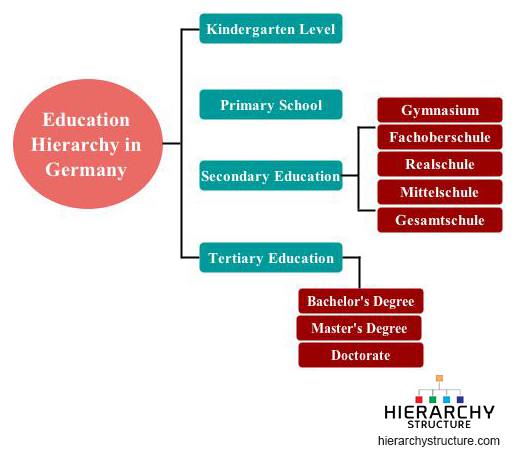 Kindergarten Level
The first and the noncompulsory level of education is kindergarten or play school. Children as young as 2 years can be admitted to these schools to gain basic understanding of colors, shapes, numbers, rhymes etc. There are many kindergarten schools in Germany.
Primary School
Primary school in Germany goes on till the student turns 10(12 in some of the states).  There is a wide range of elementary school choice for parents who are looking for a suitable school. Most students attend state schools at primary level whereas some other options include protestant or catholic schools, Montessori Method school and Waldorf School.
Secondary Education
There are 5 main options of secondary schooling in Germany after completion of primary education and they are given as follows:
Gymnasium or grammar school-this type of school goes on till grade 12 or 13.
Fachoberschule-in this type of school, admission is taken after grade 10 and goes on till grade 12. One can also leave this school after grade 13.
Realschule-this type of school finishes at grade 10.
Mittelschule-this type of school is the least academic and goes on till grade 9 only.
Gesamtschule-this is comprehensive school.
Tertiary Education
After completing schooling, students have the option to go for higher or tertiary level education. One can go on as far in tertiary education as they wish. The following are the levels within this category of education:
Bachelor's degree or diploma-one can opt for bachelor's degree or diploma which lasts for 2-4 years.
Master's degree or diploma-after the completion of a bachelor's degree or undergraduate course, one can pursue master's degree or diploma which goes on for 1-2 years.
Doctorate-this is the highest level education in Germany which helps one get the title of 'Dr.' doctorate level education consists of research besides learning.