Money plays important role in the sphere of organization to grow and bring it at the top position. If economical position of the organization is sound, there is no doubt that industry or organization grows very fast in the existing. The term financial analysis is methodical categorization on data provided in the financial statement. Financial analysis is method of identification of financial weakness and strength. It helps to increase profit as well as reduce losses.
Financial analyst hierarchy plays important role in the development of any organization. It is a significant trade activity because a company's financial statements offer useful information about its profit levels and economic standing.
It also helps to investor to invest money in company as well as ensure them about their returns on investments. Financial analyst hierarchy has great importance in today's competitive business world and it offers dynamic finance job positions to persons from the commerce field.
Following are various levels at which an analyst works and see his / her career graph: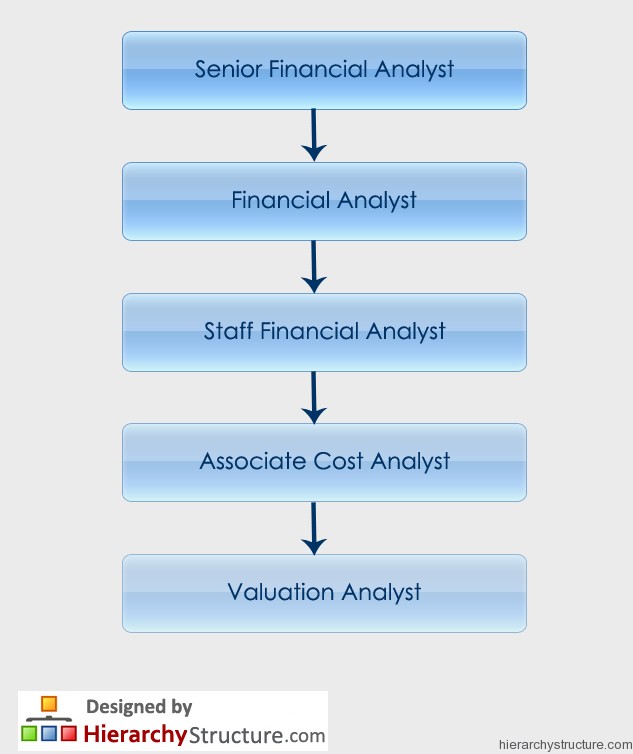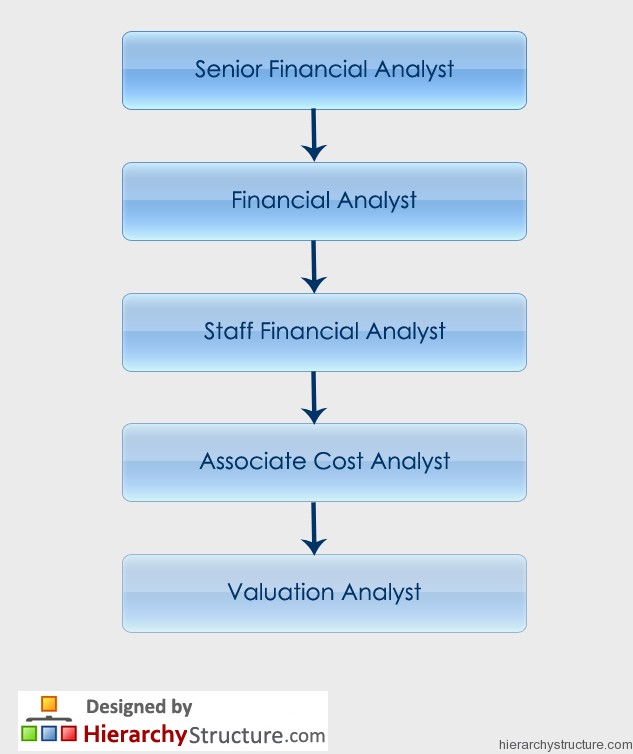 Senior Financial Analyst
Has to work with chief financial officer. He is responsible for reporting, planning and executing accounting responsibilities. He has to develop and integrate process which meets business needs of the organization. He has to manage complex financial issues within organization. He has to assist senior management of company in all financial commitments. He has to provide expertise in the area of financial analysis.
Financial Analyst
He has to create financial company infrastructure for effective data management. He has to provide financial analysis for standard cost calculations for every product involved. He has to provide expertise and financial support with all stakeholders. He has to lead such billing process to ensure about accuracy as well as compliance. He has to lead planning cycles of the company including operating plans as well as developing estimates. He has to make review of existing financial plans and report about their performances to the senior management.
Staff Financial Analyst
Has to provide financial expertise as well as counsel to team members and clients. He has to provide leadership in meeting financial commitments and goals assigned to staff. He has to contribute and drives process improvements. He has to make research to identify special opportunities which may help to improve financial decisions.
Associate Cost Analyst
Provides assistance and direction to team in order to meet assigned goals. He has to work inside defined parameters to take decisions as well as apply concepts to issues of sensible complexity and resolve issues through short term planning or immediate action. He has also assist to senior person in the analysis, input, measurement, output and interpretation of planning data or cost.
Valuation Analyst
Has to conduct deep market research of assigned asset classes by using industry connection, data analytics trade publications as well as other sources. He has to make review of accounting standards to make sure that equipment valuations are obedient.