The world of Finance and Accounting can get into a severe turmoil, if the accounts are misguided and mismanaged. Hence, to save the disaster, one must have a proper knowledge of the duties involved in Financial Controlling.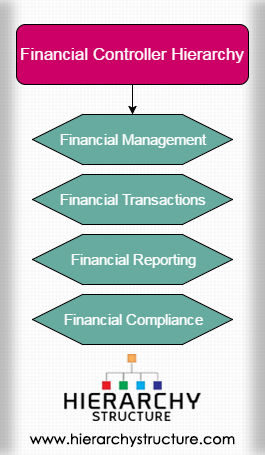 Here's a brief idea:
A financial controller is a person who basically supervises the company's entire financial accounting, maximizing the return on financial assets by organizing financial policies, procedures, controls and by reporting systems. For Government bodies and Non Profit Organizations, an alternative term for Controller, called Comptroller is used. This generally indicates a more senior position.
Considering the scope of duties and responsibilities of a financial controller to be huge, we shall focus on the basics and then the advanced functions, thus defining an overall
Financial Controller Hierarchy:
Financial Management
The policies and procedures of accounting must be preserved in a documented system.
The outsourced functions should be supervised in an efficient manner.
Proper guidance must be ensured  to take care of the operations of the accounting department, including the design of an organizational structure
Along with handling the accounting dept of the core company, the position should also cater to the accounting operations of subsidiary corporations, especially their control systems, transaction-processing operations, policies and procedures.
 Financial Transactions
A financial controller must make certain  that accounts payable are paid in a timely manner
The position also demands to ensure that all reasonable discounts are taken on accounts payable
In addition to accounts payable, the person responsible must also check that the accounts receivable are collected punctually.
The Process payroll should be taken care of at the right time.
The completion of regular bank reconciliations must be handled properly.
The required debt payments should be made on a timely basis.
The chart of accounts must be efficiently maintained.
The Maintainenance of an orderly accounting filing system.
Accounting transactions must be controlled successfully.
 Financial Reporting
The financial statements must be completed on a regular basis.
Proper Coordination must be given for preparing the corporate annual report
Suggestion of  benchmarks against which to measure the performance of financial company operations
The financial and operating metrics must be calculated and issued.
The production of the annual budget and forecasts must be clearly managed
Correct Calculation of variances from the budget and report important  issues to management
The system of management cost reports must be provided.
Ensure financial analysis as needed, distinctly for contract negotiations capital investments and  pricing decisions
Financial Compliance
Coordination with external auditors with necessary information for the annual audit
The debt levels and compliance  should be  examined with debt covenants
In accordance with local, state, and federal government reporting requirements and tax filings
Additional Responsibilities for special considerations:
For publicly held companies, a financial controller must also be in charge of filing of quarterly and annual reports with the Securities and Exchange Commission
For a small company, the controller might need to perform similar work responsibilities as that of a chief financial officer.
Know about Finance Job Hierarchy.