A general soccer club is comprised of various departments, which carry on specific job functions in order to ensure the overall development of the club. The different departments are business administration, media and communications, events, player development, coaching development and game development departments. In this particular article, we will discuss about the coaching department, the responsibilities & roles performed by the coaches at different levels and the existing football coaching hierarchy in detail with folllwoing levels: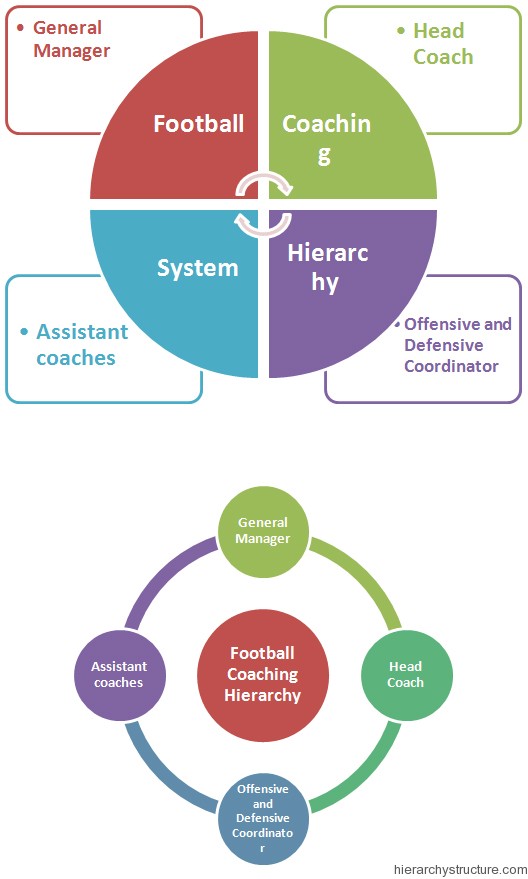 General Manager
Head Coach
Offensive and Defensive Coordinator
Assistant coaches
General Manager
The general manager is the executive of the football team, overseeing all the major activities of the team. The general manager is responsible for negotiating contracts, enrolling and dismissing players and hiring head coach for the team.
Head Coach
A head coach is also referred to as senior coach or manager. A head coach tops in the football coaching hierarchy and ranks above the offensive or defensive coordinator. The head coaches have different responsibilities depending upon the level of the sport. The coach also manages all the issues of the parents amidst the practice sessions.
In the college football, the main job role of the head coach is to enhance the overall development of the team. They are mainly responsible for the composition and the development of the players of the team. They recruit new players and develop their skills for the overall success of the team.
At the professional levels, the head coaches handle much more responsibility. They have to work long hours, but they receive a handsome pay for this.
Offensive and Defensive Coordinator
An offensive coach is in charge of the offense. He is second in line in the football coaching hierarchy, along with the defensive coach. The job role of an offensive coordinator is to manage all the offensive players and the assistant coaches. They direct the assistant coaches, who are responsible for various offensive positions such as an offensive line, slotbacks, wide receivers, quarterbacks and tight ends. The offensive coordinators design specific offensive plays anddevelop various offensive game plans.
A defensive coordinator shares the same level as that of the offensive coordinator. The coordinator is in charge of the defense. They direct the coaches, who are primarily responsible for defensive positions such as defense line, defensive backs and linebackers. The defensive coordinators are required tocall the defence plays and develop the defensive game plans.
Assistant coaches
The role of the assistant coaches is also very vital in managing the whole football team efficiently. They provide the required assistance to the head coach in major tasks and act as head coaches ion their absesnce. The assistant coach assists the head coach in various training and planning functions. They are also involved in recruiting new players for the team by taking trials. The coach recruit and train the new talents and the existing talents. In addition, they also perform various administrative tasks such as communicating with the students and parents in case of high school and college football.
Know more about English Football League Hierarchy Click Here