Mohandas Karamchand Gandhi was a prominent Indian leader and played a huge part in the Indian independence movement.  He was born and raised in Gujarat, Western India and did his law studies in London.  After he returned to India in 1915, he assumed leadership of the Indian National Congress and started the most popular and useful movement against the British rule.
In 1883, when he was 13 years old, he was married to Kasturba Kapadia who was then 14 years old.  Together they had 4 sons and the Gandhi family still continues to branch out till date. To understands the Gandhi family hierarchy in detail, you can go through the following given information.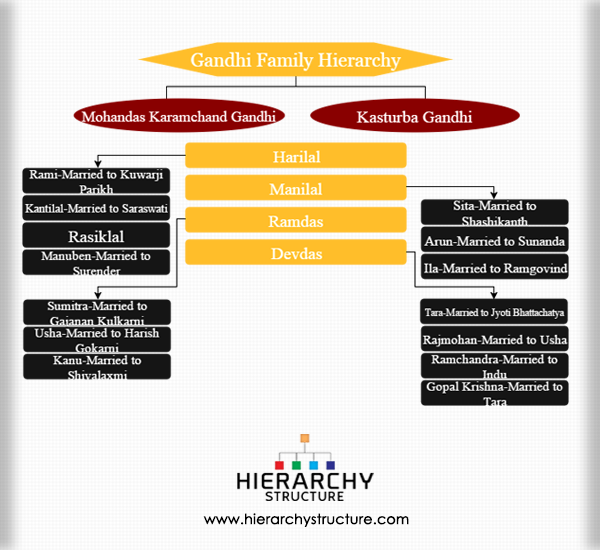 Mohandas Karamchand Gandhi (1869-1948)
Gandhiji  got married at a young age, he lost a year at school. His young bride remained at her parent's house for a long time before she started living with him.  He married Kasturba according to Hindu arranged married traditions and in his own words he described the day of his marriage as –"As we didn't know much about marriage, for us it meant only wearing new clothes, eating sweets and playing with relatives."
Kasturba Gandhi (1869-1944)
Kastur Kapadia or later Kasturba Gandhi was the wife of Mohandas Karamchand Gandhi. Besides being known as the wife of Gandhi, she was also a political activist who fought for the civil rights and for Indian independence from the British.
Together they had 4 sons:
Harilal
Manilal
Ramdas
Devdas
Harilal Gandhi
Harilal Gandhi was the eldest son of Mohandas Gandhi and Kasturba Gandhi and married Gulab with whom he has 2 sons and 2 daughters-
Rami-married to Kuwarji Parikh
Kantilal-married to Saraswati
Rasiklal
Manuben-Married to Surender
Manilal Gandhi
Manilal was married to Sushila with whom he had 2 daughters and 1 son-
Sita-married to Shashikant
Arun-married to Sunanda
Ila-married to Ramgovind
Ramdas Gandhi
Ramdas Gandhi married Nirmala and together they had 2 daughers and 1 son-
Sumitra-married to Gajanan kulkarni
Usha-married to Harish Gokarni
Kanu-married to Shivalaxmi
Devdas Gandhi
Devdas Gandhi was the youngest son of Gandhi and was married to Laxmi with whom he had 4 sons-
Tara-married to Jyoti Bhattacharya
Rajmohan-married to Usha
Ramchandra-married to Indu
Gopal Krishna-Married to Tara
The family lineage goes on till date. Also, know about Nehru Family Hierarchy.