The national police service of Greece is also referred to as the Hellenic Police and is a very large agency with a wide range of duties and responsibilities.  The police force was formed and established in 1984 and is a security organ which is mainly responsible for ensuring peace, prevention and suppression of crime, traffic safety, implementation of public and state security policy and many others.
The Hellenic police is commissioned along central as well as regional lines and consists of civilians, police officers, special police guards as well as border guards. The following is the structure and hierarchy followed within Greece Police: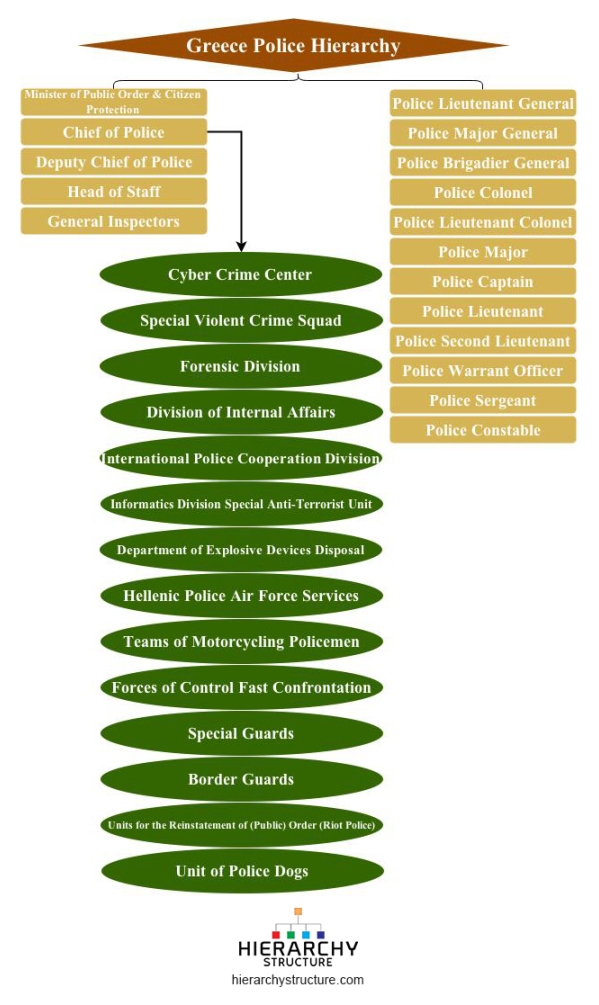 Minister of Public Order and Citizen Protection
The Hellenic police force is headed by the Minister of Public order and citizen protection. It is this minister who sets forth the general policy making and direction of the country and also gives direction to law in the country as a whole.  The head of force however is not Minister of Public order and citizen protection.
Chief of Police
The chief of police is the highest member of the official workforce of Greece police and handles the day to day management and administration of the country.
Deputy Chief of Police
Underneath the chief of police comes the deputy chief of police who plays an advisory role and also takes place as an interim head in the case when the chief of police is unable to assume his duties
Head of Staff
Working underneath the deputy chief of police is the head of staff who is not only the acting principal of the police academy but also heads the order and security branch.  He/she also is the head of the economical-technical and information support branch as well as the administrative support branch.
General Inspectors
Equal in rank to the head of staff are the general inspectors of southern and northern ancient Greece. These inspectors handle the regional services of both these divisions.
The following are the various other positions in Greece police hierarchy:
Police lieutenant general
Police major general
Police brigadier general
Police colonel
Police lieutenant colonel
Police major
Police captain
Police lieutenant
Police second lieutenant
Police warrant officer
Police sergeant
Police constable
The Greek police force also has several special services divisions which come under the authority of the Chief of Police. They are given as follows:
Cyber Crime Center
Special Violent Crime Squad
Forensic Division
Division of Internal Affairs
International Police Cooperation Division
Informatics Division Special Anti-Terrorist Unit
Department of Explosive Devices Disposal
Hellenic Police Air Force Service
Teams of Motorcycling Policemen
Teams of Motorcycling Policemen
Force of Control Fast Confrontation
Special Guards
Border Guards
Units for the Reinstatement of (Public) Order (Riot Police)
Unit of Police Dogs