Healthcare management is also termed as healthcare system management or healthcare administration. This hierarchy is a list of systematic arrangement of all the healthcare management professionals that work all together to handle the administrative department of any healthcare firm. These professionals are involved in the administration, management as well as in handling leadership of the healthcare industry.
The healthcare management hierarchy is described below in a chronological manner of system means with the top level administrative professionals in the start and then proceeding further in a downward order and ending with the lowest management professionals in the hierarchy.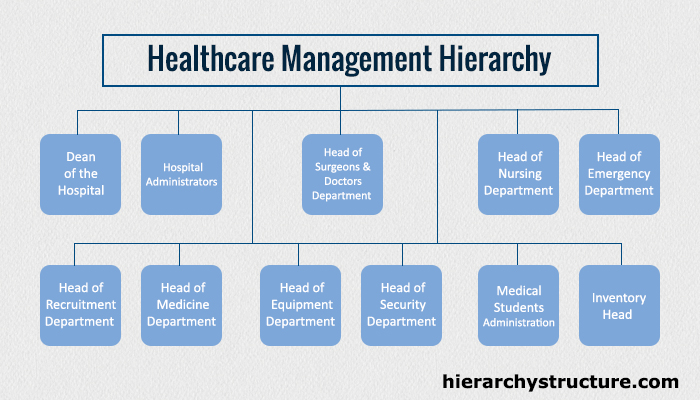 Dean of the Hospital – The highest management official in the healthcare management hierarchy is the dean. The dean manages the operations of the entire healthcare firm while enjoying the maximum authority and power in the same.
Hospital Administrators – These are the management officials who assist dean enthusiastically in administering the management of the healthcare firm. They take care of various departments of the healthcare firm involving finance, daily operation, events, funds etc. in order to ensure the smooth administration of the workplace. They operate on the orders of the dean.
Head of Surgeons & Doctors Department – Most of the times, the senior doctors or surgeons, who have got vital years of experience in service, takes the management position of head of surgeons and doctors and performs all the administrative duties along with handling the team of doctors in any healthcare firm.
Head of Nursing Department – Nurses play a fundamental role in the healthcare management hierarchy since all the supporting work for a doctor is administered by the nurses. Head of the nursing department is the management official who manages the team of the nurses in a healthcare firm.
Head of Emergency Department – These management professionals take care of the administration of the entire emergency department including the schedule of the staff that will work at which hours, the doctors and their duties according to timings and many more aspects.
Head of Recruitment Department – The all sort of recruitments done in any healthcare firm is under the consideration of these professionals.
Head of Medicine Department – The entire medicine department is under the supervision of these management professionals.
Head of Equipment Department – The entire equipments, tools and machinery used in any healthcare firm comes under the duty & responsibility of these professionals. They take control of administration of the entire technical team.
Head of Security Department – This professional takes care of the entire security staff department. These professionals report directly to the assistant of dean of the healthcare firm.
Medical Students Administration – These professionals undertake the responsibility of the students who enter the healthcare industry as an intern to gain practical knowledge and experience.
Inventory Head – Inventory is an imperative segment of any industry and hospitals are no exception. These professionals are responsible for maintaining the supply of goods to the hospital while ensuring the appropriate stock is always there to handle any emergency.
know about Hospital hierarchy