Hockey is a popular sport around the world. But hockey further is of various types as
Ice Hockey
Field Hockey
Roller Hockey (quad)
Sledge Hockey
Street Hockey
Roller Hockey (inline)
But the normal hierarchy of all the associated professionals of the hockey remains almost the same. Hockey team hierarchy will showcase this hierarchy in an arranged manner explaining all the levels of professional allied with hockey. Broadly it can be divided into two major groups.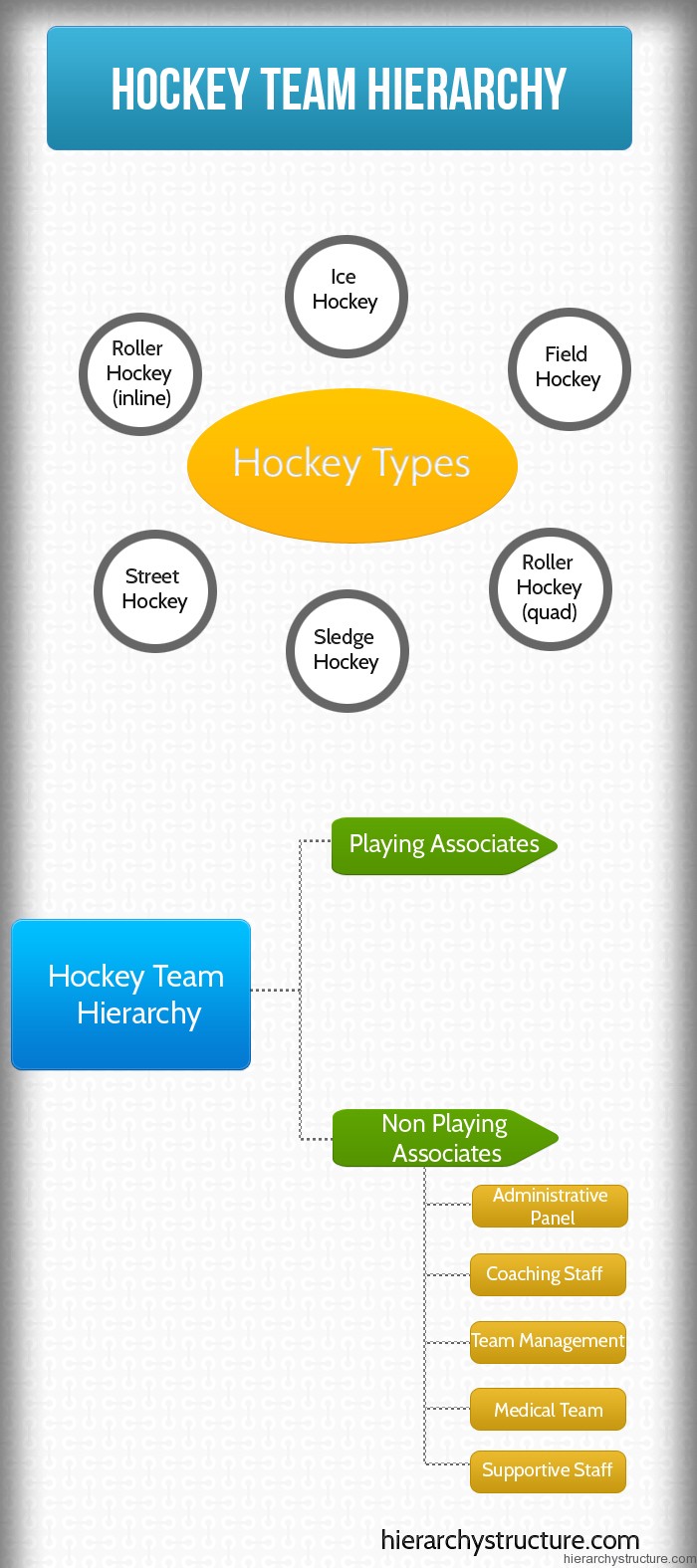 One who actually play hockey, termed as playing associates and the second comprise of all those who are actually players but manage & handle all other duties of work related to hockey, except for playing. These are categorized as non playing associates and are further sub categorized according to the roles & duties these underneath.
Let us have a quick look at the Hockey team hierarchy which is as follows
Playing Associates
 The playing associates in the Hockey team hierarchy are the players of the hockey team. These include those who will play and represent their country along with those who are substitutes and may or may not play. The number of players in each team depends upon the Hockey league of form of hockey being played but on an average it is somewhere 16 to 22 (including substitutes).
Non Playing Associates
 All the associates of hockey who are not players comprise off this level of the Hockey team hierarchy. This level further get sub divided into six major parts. These are as follows 
Administrative Panel
Coaching Staff
Team Sports Management
Medical Team
Supportive Staff
Administrative Panel
 The top most level of the non playing associates in the Hockey team hierarchy is of administrative panel. These are the administrative professionals handling and taking all the big decisions of the hockey at the national level. They take care of team selection, the schedule of the matches or leagues; maintain relationship with other boards of the nations and many more.
Coaching Staff
 All the coaching staff relies in section of the Hockey team hierarchy. Some teams have one or two while some have various coaches but they all comprise coaching staff section. The technical staff is also under this category.
Team Management
 This level of hockey team hierarchy is the most crucial level.Team management plays an important role in maintain a good relationship between team & players with the outer world especially media. All the players are to abide by the rules provided by the team management.
Medical Team
 To avoid players from getting injuries or to provide first aid at the time of emergency, the medical team takes care of each & everything related to the health of the players as well as other team members.
Supportive Staff
 There are numerous other professionals who have small yet important role in the team and they all together are referred to as supportive team.