India is a wide country with more than 25 states and a couple of union territories. Hence the countrywide police force needs to be quite large. So for effective working of police force it is not operated on national basis as a nationwide force. Every state and union territory maintains their own police force.
As per the constitution of the country the police have been designated as a state subject and rules and regulations to be followed by the police are governed by the state government. Although there may be few minor differences in the structural arrangement of police force in various states but the general hierarchical structure of police force in India is quite similar. Principally they operate in a similar manner but the differences may lie in the way they conduct their operations.
The Indian police force hierarchy starts with the director general of police in each state and then follows the ranks and designations of police officials at the subsequent levels of the hierarchy. The Indian police service hierarchy is constituted in vertical alignment where there are three levels of police service. Here we are discussing this hierarchical structure from top level ranks to the lower level ranks.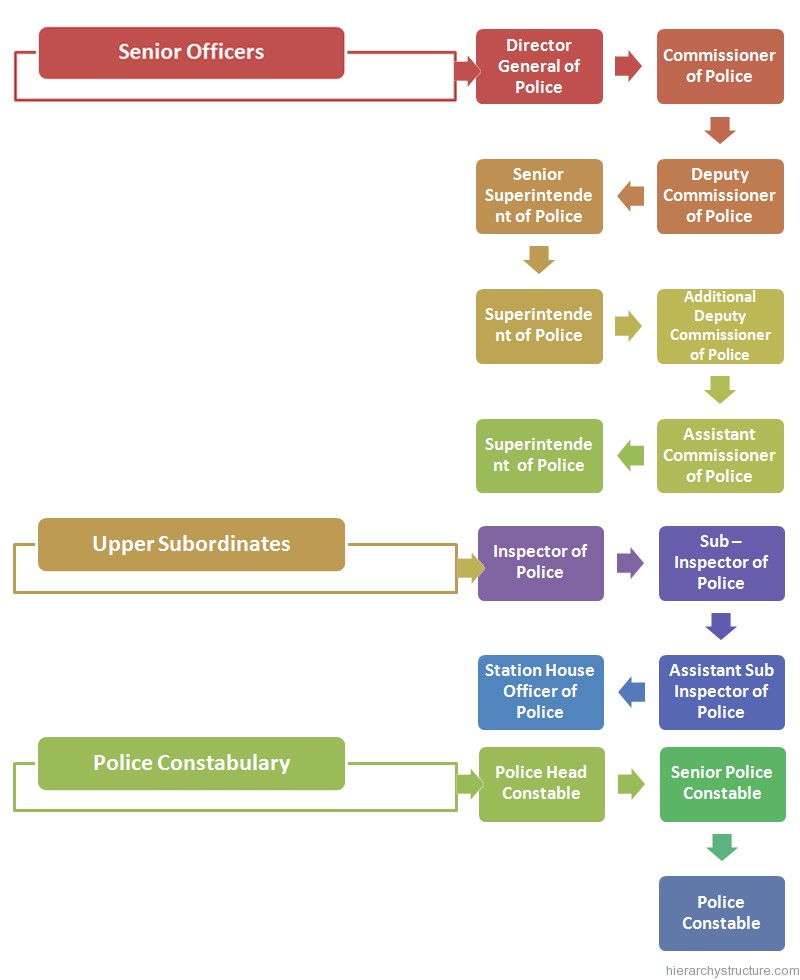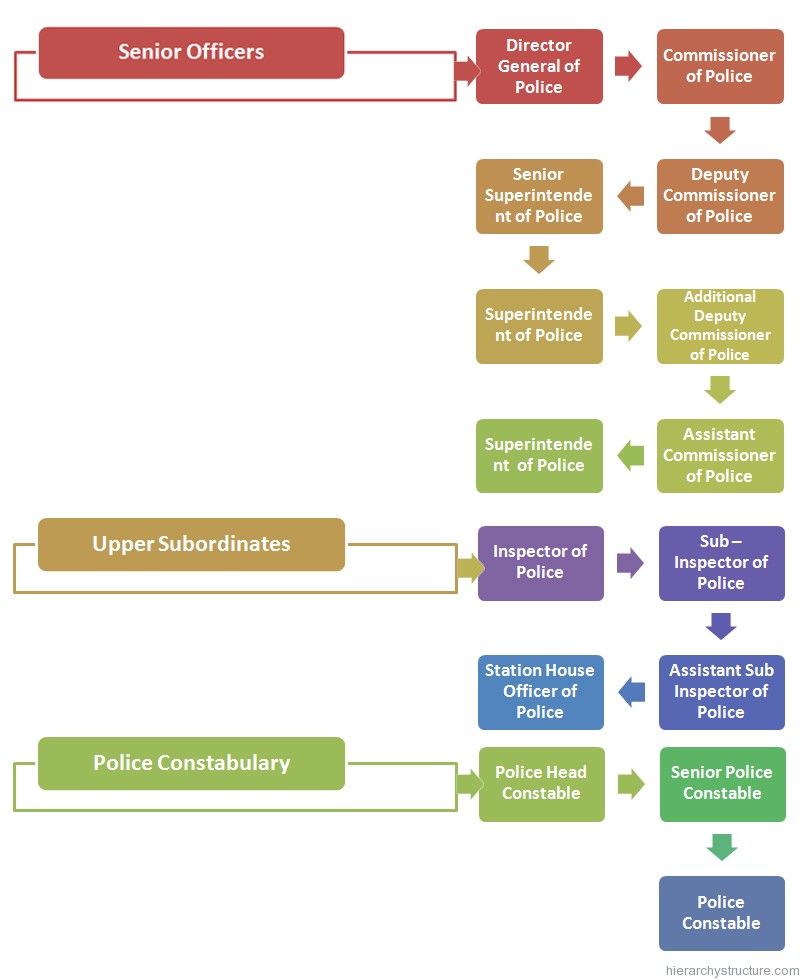 Senior Officers
The first level of Indian police service is of senior officers who are by and large drawn from the IPS (Indian Police Service) tests. These officials are appointed to perform the supervisory operations at the senior police level. The topmost rank in this level is acquired by DGP (Director General of Police) who takes the responsibility of administration of entire police force in his / her state. The senior officials are also responsible for providing the required advice to the government on the criminal and police related matters.
The police officers at this level are as follows:
Director General of Police
Commissioner of Police
Deputy Commissioner of Police
Senior Superintendent of Police
Superintendent of Police
Additional Deputy Commissioner of Police
Assistant Commissioner of Police
Superintendent  of Police
Upper Subordinates
After the senior officers, come the upper subordinates in the Indian police service hierarchy. These are officers who work in the police stations and are responsible for managing the day to day operations of police and assisting senior officers in various operations. The officers at this level in the order of police service hierarchy are as follows:
Inspector of Police
Sub – Inspector of Police
Assistant Sub Inspector of Police
Station House Officer of Police
Police Constabulary
The third level in the Indian police service hierarchy is reserved for police constabulary staff. These personnel work to maintain law and order in their designated areas and are also responsible for other police activities like guard duties, surveillance and patrolling. The personnel at this level account for more than 85 per cent of total police force of India. The hierarchy of officers at this level is as follows:
Police Head Constable
Senior Police Constable
Police Constable
Know more about Indian Military Hierarchy.