These days, the organizations like investment banks are flourishing with the rapid industrialization. Investment banks are financial organizations that provide assistance to corporations, individuals and governments in raising capital by acting as an agent for the client in the security issuance. With the sudden growth in the industrial atmosphere around the world, these have become an obvious career choice of finance & accounting students.
Investment bankers are the professionals who operate this process and provide services to the clients on bank's behalf. The major services include helping companies in acquisitions and mergers, trading of derivatives, market making, foreign exchange, fixed income instruments, commodity and equity securities etc. The Investment Banking career hierarchy is described briefly as below in this article starting with the highest rank and ending with the lowest one: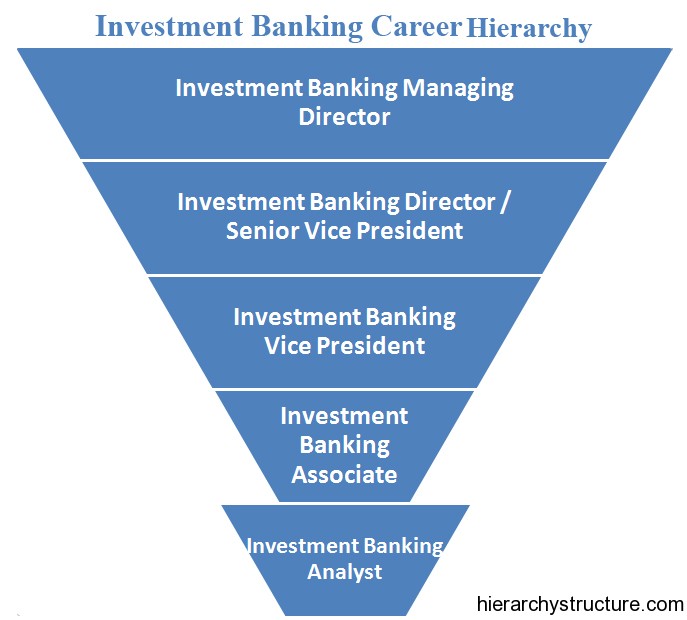 Investment Banking Managing Director
The highest rank in the investment banking career hierarchy is investment banking managing director. These are the professionals who get promoted after accumulating years of vital experience and showing their ability to generate substantial business for the firm. One has to go through various Investment Banking job ranks to achieve this post. They get involved in the task of client facing, handling efficiently potential clients for the benefit of firm.
Investment Banking Director / Senior Vice President
This is the second highest rank in the hierarchy. In some banks, the director performs the same tasks as of a managing director. Their major duties involve managing and directing client relationships, bringing new business for the firm and efficiently market the business. They handle the entire team and functioning of bank in the absence of managing director.
Investment Banking Vice President
This is the third rank in the investment banking career hierarchy. These are the experienced professionals with a master's degree in accounting or finance. These professionals act as a project manager during the execution of M&A transactions and play a vital role while generating deals for the firm. They report directly to the director.
Investment Banking Associate
This is the second lowest rank in this hierarchy. The fresh MBA graduates with small experience are suitable for this post. Some investment analysts also get promoted to this position. These professionals are responsible for quality control while working on deals or presentation along with analysts. Training of analysts is under their key duties.
Investment Banking Analyst
An investment analyst is the lowest rank in the investment banking career hierarchy. These professionals are also referred as a research analyst, a financial analyst or an equity analyst. These professionals perform the task of financial analysis for internal and external clients. Accounting bachelors with minimal experience get appointed for this job position.
These are the major levels in the industry but this is not the end. The next step for a managing director is to be promoted to become team head, product head, a country head and ultimately the head of the M&A by being a CEO of the investment banking at international level.