An information technology is a profit making institution which is engaged in task of creating and supplying software and information technology solutions aimed at making the operation of organizations such as banks, business companies run smoothly. In other words they are engaged in making life and work of other entities simpler by providing cutting edge technology driven solutions. To run and manage successfully such operation with proper responsibility and accountability requires a definite control structure to be in place. IT corporate hierarchy can be divided into the following hierarchical levels: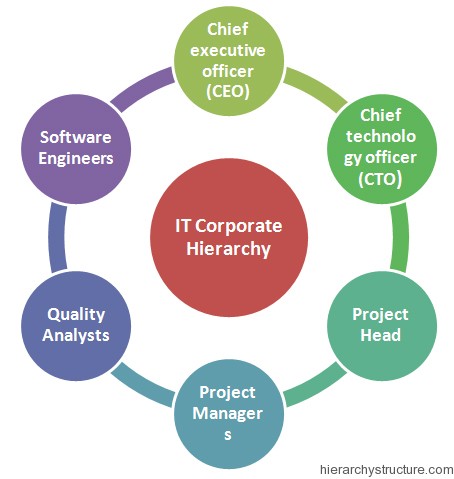 Chief executive officer (CEO)
Chief technology officer (CTO)
Project Head
Project Managers
Quality Analysts
Software Engineers / Programmers
IT corporate hierarchy can be viewed akin to a pyramid headed by a board of directors who in turn delegate various operations to qualified and experienced subordinates. An IT organization is engaged in multiple ranges of activities such as training and creating IT solutions for clients in varied range such as banking, manufacturing, training, human resources, ITES etc. To successfully manage this operating cycle and to regulate these operations along with safeguarding the investor interest a well-defined hierarchy Structure is put in place which works like a gear mechanism of a machinery.
The overall operation of the IT Company is controlled by a board of nominated officials and directors. These nominated officials are representative of investors, government and venture capitalists. The board is responsible for all policy level decisions in the business. For day to day functioning and implementing the strategic decisions the bank appoints a Chief executive officer (CEO). Further there are strategic positions in top management of the bank such as Chief technology officer, Chief Financial officer, Chief Operating officer, Chief People's officer and various functional heads such as Business heads or vertical heads for niche verticals. It all depends on the verticals the customer operates in.
Generally to maintain the span of control and render excellent services to the customer, operation of IT Company is divided and controlled project wise. Generally a project head is appointed and is responsible for all the controlling and decision making process with respect to that project. F
Further staffing requirements in the projects are also released by specific project managers who in turn also visit various colleges and campuses to hire the requisite expertise for completing the project in time. The project may be executed offsite or onsite as required by the project and client and project manager is responsible for putting the requisite resources in place.
The IT corporate hierarchy also consists of software engineers, software testers, analysts, programmers and coders who report into their respective project manager. Apart from this the intrinsic nature of IT Company requires regular training and retraining of the resources so every IT Company needs to have a well-equipped training department in place. Also such companies have to confirm to specific laws of the land and need to have personnel to take care of these aspects.
Know more about Corporate Employee Hierarchy Click Here