Kenya has recently undergone a change in its government or political system and now follows a new structure under a new constitution. The central government of the country is structured through the constitution where the policy making and administrative powers have been divided in three different arms which are the executive, legislative and the judiciary.
To understand how the governance and political system works in Kenya, you will have to understand its political hierarchy structure with a little more depth. The following is a detailed hierarchical structure of the Kenya Political system: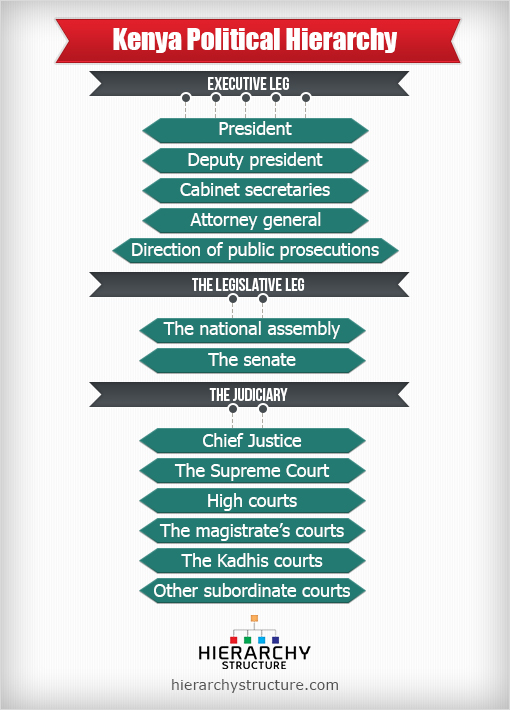 Executive Leg
The executive leg for any democratic nation is one of the most important and superior legs and it consists of the following given primary members:
President
Deputy president
Cabinet secretaries
Attorney general
Direction of public prosecutions.
The executive branch is headed by the president and is guided by the frameworks of law. The president is the one who appoints 14 to 22 cabinet secretaries of ethnic as well as regional diversities.
The Legislative Leg
The Legislature is responsible for seeing to it that laws are being properly made and implemented in the nation.  The legislature is divided into further two categories which are the national assembly and the senate.
The national assembly
The senate
The Judiciary
This is the third leg of the political system of Kenya and is a wing which is responsible for implementing all the laws that are made by the Legislative branch.  The Kenyan judiciary system also adheres to a hierarchical structure which consists of the Supreme Court as well as the other courts. Let's look at its hierarchical structure in a little more detail
Chief Justice-the chief justice is the president of the Judiciary system and is appointed by the President himself.
The Supreme Court-the highest power of judiciary in the country, the Supreme Court attends all the appeals which arise from the court of appeal
High courts– all criminal and civil cases are heard by the high courts of different regions and these courts are also responsible for supervising the administration of the justice in the lower ranking courts of the particular region.
The magistrate's courts-this category of courts falls under the Subordinate courts and deal with civil and criminal matters of that particular rank.
The Kadhis courts-these courts are only appointed to solve matters arising in the Muslim Law which are related to divorce, marriage, personal status and inheritance etc.
Other subordinate courts.