In legal job hierarchy, the law office is a business firm formed by a group of lawyers who are employed in ardent law practice. The main service provided by the law firm is to give advice and suggestions to the clients, who may be any individual or any corporation, about their law related queries, issues and their legal rights as well. In legal job hierarchy, the law firm also represents their clients in various criminal or civil cases, transactions related to business, and other legal matters in which advice and other supports are needed.
In legal job hierarchy, the legal jobs are arranged in chronological order means starting with the highest rank of the hierarchy and ending with the lowest one: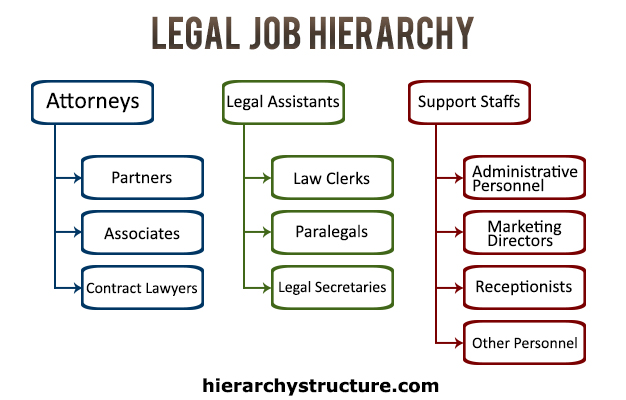 Attorneys
Attorneys are the persons who have got the license for practicing law. They are the main strength of a law firm in legal job hierarchy. They are:
Partners – They are usually known as the proprietors of the law firm. Partners are the most practiced lawyers and they charge the maximum fees.
Associates – They are the lawyers who work under a firm but are not the owners. According to their experience, associates have to charge lower fees than partners.
Contract Lawyers – They are hired on contract basis at a high rate by a law firm to work part time.
Legal Assistants
They are also trained in law but they are not having the license to practice law according to the legal job hierarchy. They are:
Law Clerks – The students who are still going to the law school are appointed as law clerks by the law firms. They assist in legal research, preparing cases and also work on other legal matters.
Paralegals – They are the people having legal training but are not lawyers. Paralegals can play a vital role in the law firm by giving critical support to the lawyers while working on cases. Their charges are half of the fees of the lawyers.
Legal Secretaries – A lawyer is burdened with many types of works which are a part of his law practice. These duties are organized and assisted by the legal secretaries in everyday work.
Support Staffs
Everyone who works in the law firm are not trained in law. The support staffs are to help in other affairs of a law firm. They are:
Administrative Personnel – Administrative personnel are to run the internal operation of the law firm. These include accountants, librarians, book keepers etc.
Marketing Directors – They are in charge for making a good image of the law firms. Their key aim is to allure the fresh clients and to keep the existing clients.
Receptionists – Every law firm has a legal receptionist. Their work is very important because they are the firm's first contact with the outer world.
Other Personnel – Every law firm has other staff members to execute certain functions in the law office. The large will be the firm the more will be such personnel in the firm.