The levels in business hierarchy refer to the levels of chain of command, employee designations and designation categories which take a pyramidal form with the largest segment of employees situated at the base of the pyramid.
These employees who constitute the base of the pyramid are supervised by a relatively smaller group of supervisors or immediate managers who in return are supervised and managed by the officers placed above them in the hierarchy, and this way these levels in business hierarchy continue till they reach the highest level comprised by the CEO or the board of directors. Hence it can be concluded that the levels in any business hierarchy are the predefined steps represented by designations and which keep on narrowing from bottom to top.
These hierarchies are quite useful in developing an understanding of the roles of various employees in the organization. The following are the major levels in business hierarchy ranging from top to bottom.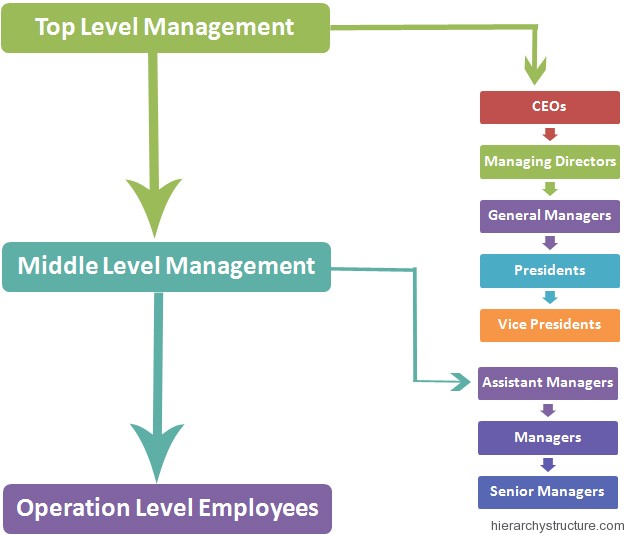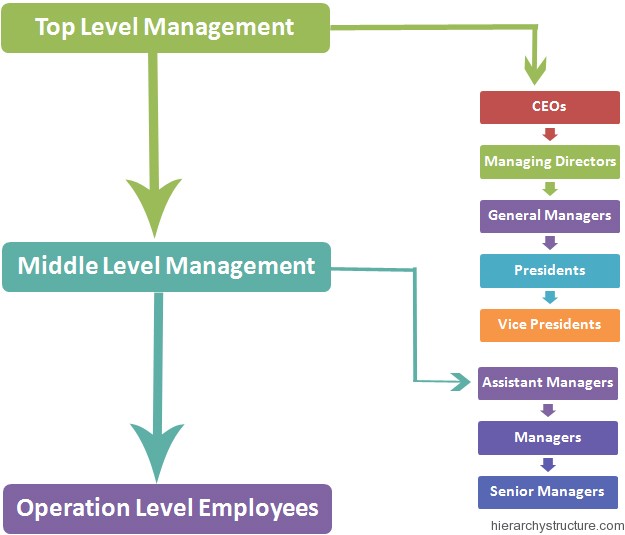 Top Level Management
Middle Level Management
Operation Level Employees
Top Level Management
The top level management consists of people like CEOs, Managing Directors, General Managers, Presidents, and Vice Presidents etc. These are the personnel who are involved in the planning of the business as well as overseeing its performance. They deal with totality of business system and overlook both business & administration activities from top levels.
These are majorly engaged in scanning external and internal environments. These professionals are meant to make business a success in the long term perspective. Hence they need great conceptual decision making, reasoning and extra ordinary skills. These personnel are required to navigate the business activities all the time and take right decisions for the success of the business.
Middle Level Management
The second level in business hierarchy is middle management level. At this level are the managerial professionals like assistant managers, managers, senior managers etc. These professionals are required to manage the activities pertaining to the actual usage of all the resources and leading the employees in the right direction. These are responsible for planning activities in order to achieve the organizational objectives framed by the top management.
These professionals are also required to achieve the operational and financial objectives on yearly basis. Their major focus is on striving profitability, liquidity, efficiency and effectiveness. The jobs performed by these professionals are knowledge & leadership oriented jobs.
Operation Level Employees
The last level in business hierarchy is operation level which is constituted by the front line employees who perform the day to day activities of structured nature and deal with the units of operation. These employees are majorly related with machines and resource utilization. Since employees at this level and their supervisors are engaged in actual implementation of technology or in the production of the organization's products, hence these are regarded as operational level employees.
These employees majorly strive for effective and efficient implementation and are guided for work by their immediate supervisors or managers.