The Malaysian legal system hierarchy is mainly centered despite federal constitution of Malaysia. The British Common Law has a great influence over this system and also the Islamic law but to a lesser extent and no political interference is there in this system. In Malaysian legal system hierarchy there are usually two kinds of trials, namely civil and criminal. The jurisdictions of courts in the matters of civil or criminal cases are there in the Subordinate Courts Act 1948 and Courts of Judicature Act 1964.
The Article 121 of the Constitution presents two High Courts of equivalent jurisdiction, the Malaysian High Court and the High Court in Sarawak and Sabah. Hence, this forms two different local jurisdictions of courts for the Peninsular Malaysia and also for the East Malaysia. The Malaysian legal system hierarchy is explained below: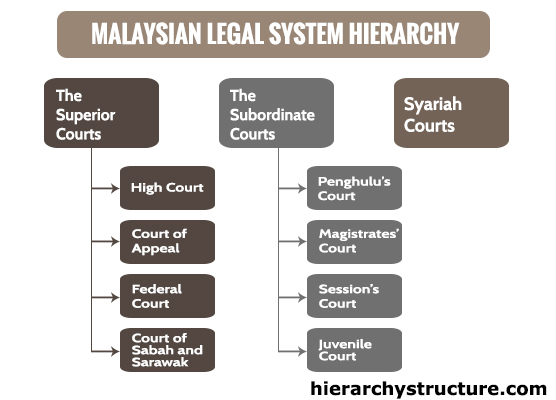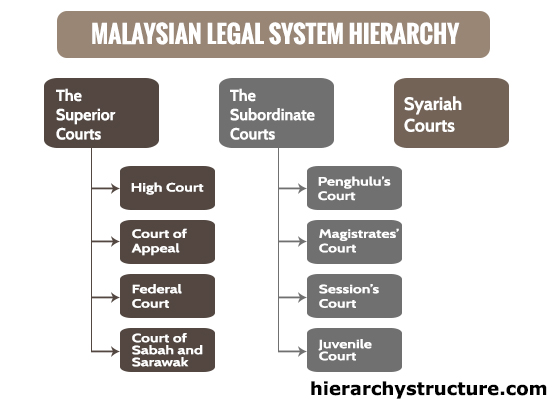 The Superior Courts – Malaysian legal system hierarchy comprises the Malaysian High Court, the Court of Appeal, the Federal Court and the Court of Sarawak and Sabah.
High Court – The High Court has general revisionary and supervisory jurisdiction over all Subordinate Courts and hears appeals related to criminal and civil cases from Subordinate Courts. The High Courts have rights to hear cases concerning all the criminal matters.
Court of Appeal – The Court of Appeal hears all the civil and criminal cases against the judgments of High Court.
Federal Court – All civil cases from Court of Appeal comes to the Federal Court only after the Federal Court grants leave. The criminal cases are also heard by the Federal Court from Court of Appeal only the issues which are heard by High Court in its jurisdiction.
Court of Sabah and Sarawak – The Sabah and Sarawak Court only hears appeals on matters of their native customs and laws.
The Subordinate Courts – In Malaysian legal system hierarchy, the Subordinate Courts comprises the Sessions Courts, the Penghulu's Courts in western part of Malaysia and the Magistrates' Court.
Penghulu's Court – The Penghulu's Courts hear civil issues in which the claim is below RM50-00 and where the offenders are of Asian race and speaks and understands the Malay language. In Penghulu's Court's criminal cases are heard in which the fine is not more than RM25-00.
Magistrates' Court – The Magistrates' Courts hear all the civil issues in which the claim is not more than RM25, 000-00. In criminal issues, the Courts have the power to try all the offences in which the imprisonment term is not more than 10 years.
Session's Court – The Sessions Courts hear all the issues in which the claim crosses RM25, 000-00 but not more than RM250, 000-00. It also hears criminal cases except matters of death penalty.
Juvenile Court – This court is for the issues related to the minors who are below the age of 18 years.
Syariah Courts – The Syariah Courts have jurisdiction over the issues of Muslims and has an imprisonment term of not exceeding three years.