Like every profession, a career in marketing also presents an individual with various designations at different levels of career progression, where this progression from lower to uppermost levels of designations is known as marketing career hierarchy. With a marketing career in mind a candidate can go in various directions with a different marketing stream but the progression of career in each of these directions is quite similar.
A fresh graduate or post graduate aiming at marketing as a career has to start from a very basic position or entry level positions in an organization and with due course of hard work, dedication and experience the individuals starts climbing the ladders in his marketing career hierarchy with the ladder steps being various designations.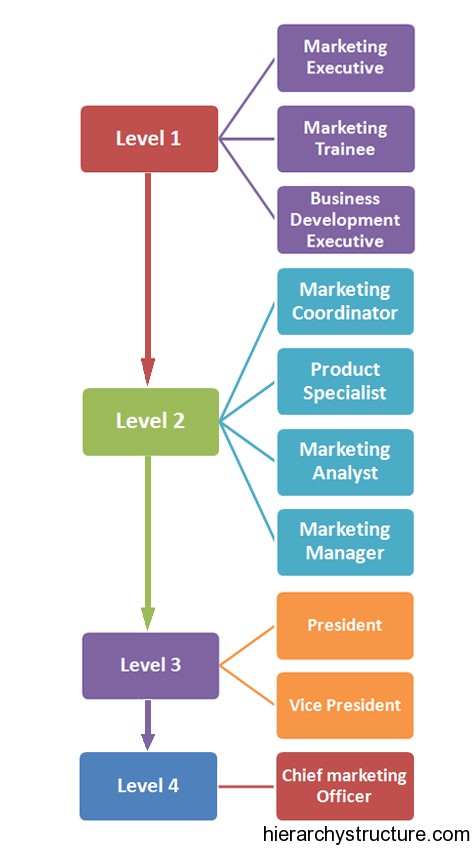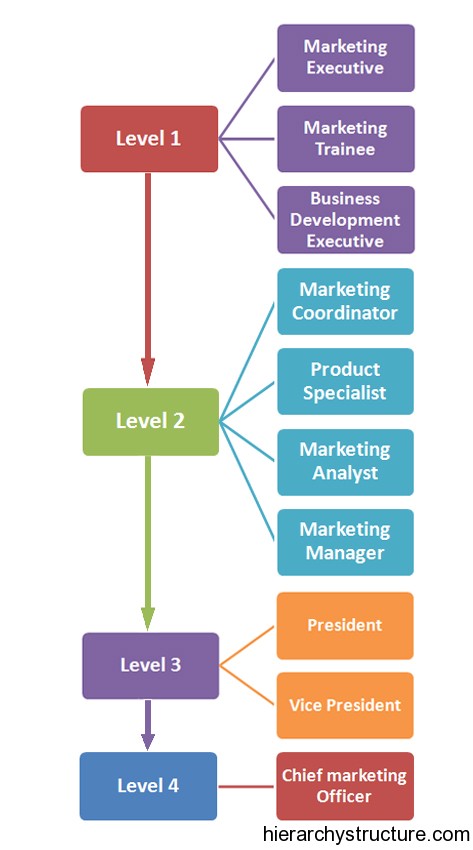 Level 1
An individual who wants to start his marketing career is required to enter any organization with very basic designations like marketing executive, marketing trainee, sales & marketing executive or business development executive.
An individual on the basis of his capabilities to convert the resources into outputs, and the behavior of these resources & capabilities develops certain skills, strengths and qualities, which when combined lead to synergistic effects. After developing the competencies over a period of time and individual can move forward to the next level in the career hierarchy.
Level 2
The second level in the marketing career hierarchy includes designations at Marketing management level like marketing coordinator, product specialist, marketing analyst, product manager or marketing manager.
At this level an individual is required to utilize his inherent potential or marketing capabilities in order to exploit opportunities and manage the job responsibilities & subordinates as well in an efficient manner. After developing certain subjective attributes required in a good marketer a candidate grows further in the marketing career hierarchy.
Level 3
The third level in this hierarchy is senior management level where candidates are presented with designations like senior marketing manager of certain specialized Marketing  departments.
In this role a candidate is required to ensure that proper tactical marketing decisions are being taken pertaining to efficient and effective allocation of resources & employees. Candidates at this level are responsible ensuring that right marketing actions are being implemented.
Level 4
The highest level in marketing career hierarchy is the chief executive level where a candidate is offered the position of CMO (Chief marketing Officer). This is the role for the most important strategist and candidates at this level are responsible for all the marketing aspects right from the formulation of marketing strategies to the implementation and review of the marketing practices being followed in the organization.
The chief marketing officer is the chief architect of marketing function and is required to behave like a leader, a builder, a motivator and a mentor. These professionals are responsible for providing a sense of direction to the employees for the goodwill & growth of the organization. They are also required to actively participate in the implementation of marketing practices to ensure that the right steps are being taken.