A medical career is like a wide umbrella which covers many medical career options ranging from nursing, medicine and surgical specialties to pharmacy related careers. A medical career hierarchy is the listing of subsequent career designations that a candidate goes through during his entire medical tenure.
This hierarchy starts right after a candidate passes the medical school and completes his or her internship and goes till the very end of their medical career till retirement. The medical career hierarchy includes the entire career progression which a candidate can witness in his / her entire medical career starting from very basic positions to the highest level designations.
Although quite a lot of medical professionals believe that there is no certain hierarchical format in a medical career progression but still there exists a certain sequence of medical designations which broadly apply to almost all sorts of medical careers. The medical career hierarchy is as follows: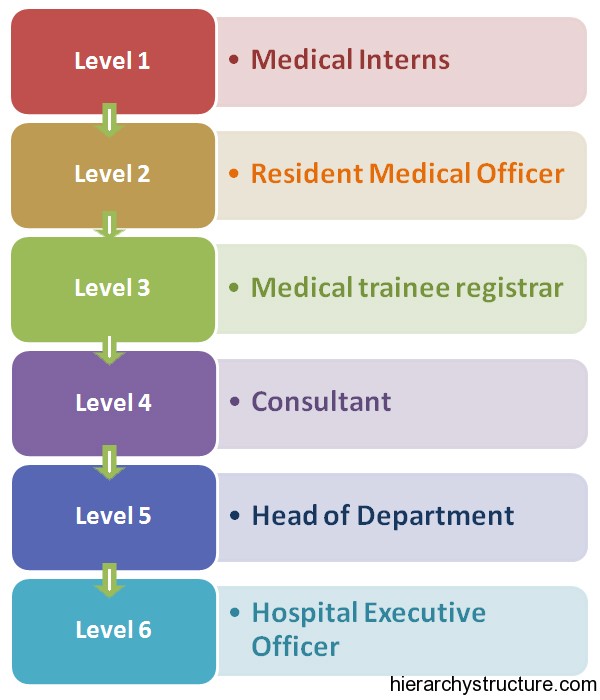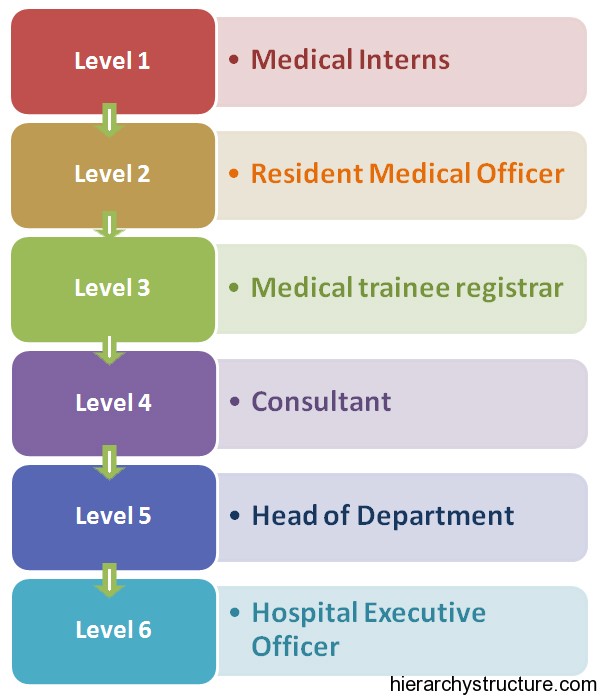 Level 1 – Medical Interns
The bottom most level in this hierarchy is the entry level for the fresh graduates, referenced as medical interns. These are the medical professionals who go for medical training after completing the medical school curriculum.
These candidates are required to complete a certain amount of time with an accredited health centre before getting awarded the medical degree. This is the most basic level where a medical student starts practicing the medicine.
Level 2 – Resident Medical Officer
This term is used for a medical intern, after he completes this internship and who starts practicing medicine under the complete supervision of licensed physicians in health centers. Medical residency follows the internship and this is the first step in the ladder of the medical career of a medical professional.
Level 3 – Medical trainee registrar
A medical trainee registrar is a professional who after completing his / her residency program undergoes advanced training in a particular medical specialization. Some candidates are also required to complete their house officer training before initiating their registrar training. A candidate is required to spend around four to five years at the designation of specialist registrar before receiving CCT (Certificate of Completion of Training)
Level 4 – Consultant
A medical consultant is the name given to a senior physician who has spent apt amount of time in developing and practicing complete training in a particular medical specialization, for example cardiology, psychiatry etc. The consultants are assigned the complete charge and responsibility of their patients and they have interns and resident officers assisting them in medical treatments.
Level 5 – Head of Department
An HOD in a hospital is a professional leading a complete medical specialization department. These professionals are responsible for hiring interns, resident officers and also for assigning the Medical Jobs responsibilities to the consultants working under them
Level 6 – Hospital Executive Officer
The last level in a medical career hierarchy is of Hospital Executive Officer who is responsible for managing the various aspects in a hospital at the executive level. They are responsible for directing and supervising the governance of the hospital in terms of how patients are being treated and how al the staff members are performing their job responsibilities.