Myanmar is a small company and its military has been arranged in a general structure of ranks and designations. The Myanmar military hierarchy is broadly divided into two levels – Commissioned Officers as well as Non Commissioned Officers. These two levels further incorporate various sub levels that defines all the military ranks in the Myanmar military on the basis of power & designation they hold. The chronological pattern is used to explain this classification here in this article.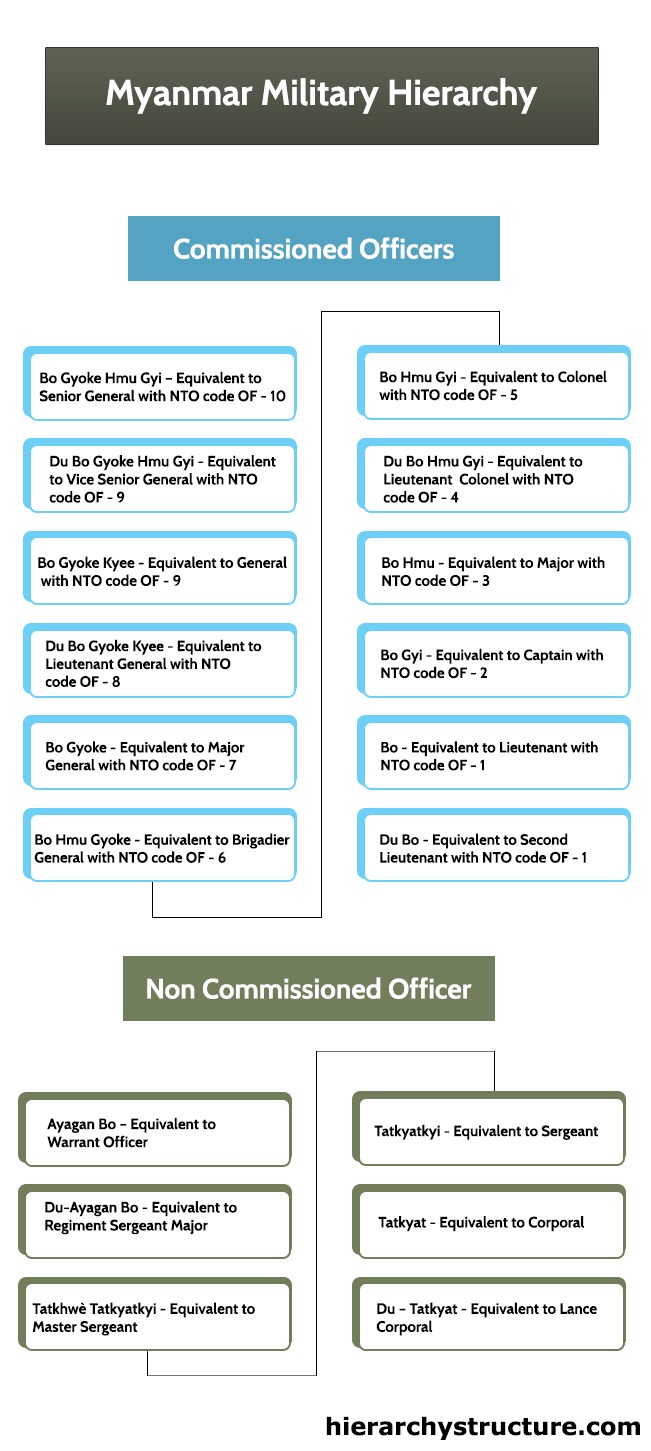 Commissioned Officers
Commissioned officer ranks are the highest level military positions that are offered to high rank senior officers of the Myanmar military. This level differentiates the military officers from all other officers of military. Well currently in Myanmar military the first two ranks (which are topmost ranks in the hierarchy) are inactive.
So practically saying the hierarchy starts from third rank of NATO code OF – 9 but theoratically the hierarchy starts from Bo Gyoke Hmu Gyi with NATO military ranking OF – 10. The commissioned officer level in the Myanmar military hierarchy are the highest paid officials and are further sub categorized into 12 ranks which have been explained below:
Bo Gyoke Hmu Gyi – Equivalent to Senior General with NTO code OF – 10
Du Bo Gyoke Hmu Gyi – Equivalent to Vice Senior General with NTO code OF – 9
Bo Gyoke Kyee – Equivalent to General with NTO code OF – 9
Du Bo Gyoke Kyee – Equivalent to Lieutenant General with NTO code OF – 8
Bo Gyoke – Equivalent to Major General with NTO code OF – 7
Bo Hmu Gyoke – Equivalent to Brigadier General with NTO code OF – 6
Bo Hmu Gyi – Equivalent to Colonel with NTO code OF – 5
Du Bo Hmu Gyi – Equivalent to Lieutenant  Colonel with NTO code OF – 4
Bo Hmu – Equivalent to Major with NTO code OF – 3
Bo Gyi – Equivalent to Captain with NTO code OF – 2
Bo – Equivalent to Lieutenant with NTO code OF – 1
Du Bo – Equivalent to Second Lieutenant with NTO code OF – 1
Non Commissioned Officer
The Non Commissioned Officer level in Myanmar military is referred to as Saya that means Teacher. These are basically seasoned veteran soldiers in the Myanmar military hierarchy. The term Teacher is used out of respect for the military officers under this level. The non commissioned officer level in the Myanmar military hierarchy is further sub categorized into 6 ranks which have been explained below:
Ayagan Bo – Equivalent to Warrant Officer
Du-Ayagan Bo – Equivalent to Regiment Sergeant Major
Tatkhwè Tatkyatkyi – Equivalent to Master Sergeant
Tatkyatkyi – Equivalent to Sergeant
Tatkyat – Equivalent to Corporal
Du – Tatkyat – Equivalent to Lance Corporal