New York Police Department or NYPD is one of the most popular and efficient police forces in the world and follows the primary responsibilities of law enforcement and investigation in five boroughs of New York City.  The police department of this city is mainly known for its strict organization or hierarchy structure. There are many ranks in the NYPD and one can only move up the ranks by gaining experience and skills through their career. The following is a detailed hierarchy within the New York Police department.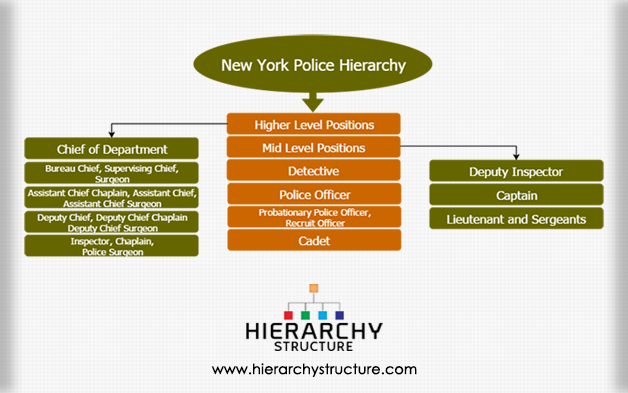 Higher Level Positions
The NYPD consists of officers in charge of cases and higher level positions which are taken by supervisory or administrative officers who have many years of experience. These individuals hold decision making powers and recruiting powers. The following are some of the main higher level positions within this department:
Chief of department
Bureau chief, supervising chief, surgeon
Assistant chief chaplain, assistant chief, assistant chief surgeon
Deputy chief, deputy chief chaplain, deputy chief surgeon
Inspector, chaplain, police surgeon
Mid Level Positions
The mid level positions in the NYPD are those positions of officers who have a supervisory and administrative role in the department. These individuals may not themselves go on the field to solve cases but take important decisions within the department for each branch. The following are some mid-level positions:
Deputy inspector-Deputy inspectors hold high level positions in the NYPD and often work higher than the captains.
Captain-It is the captain who is the officer in charge of a precinct. This position comes in the upper level management in large sized police stations.
Lieutenant and Sergeants-Both lieutenants and sergeants are assigned the task of overseeing the working of the detectives working in their branch and discuss plan of actions and progress on cases.
Detective
After the position of the sergeant comes the position of a detective.  A police officer is promoted to the detective by the commissioner only if he/she fits the criteria for selection.  There are three main grades within this job position and they are primary, secondary and third grade where third is the lowest level and primary is the top level. There are two main types of detectives and they are detective investigators and detective specialists.
Police Officer
Only after one completes training as a recruit officer can he/she move onto the position of a police officer in the New York Police department. This is the position where individuals handle various types of cases, work on the field and also work within an office setting.  Police officers are required to be physically strong but must also show intelligence as far as solving cases is concerned.
Probationary Police Officer, Recruit Officer
Every officer begins service at the rank of a recruit officer or probationary police officer.  Only after completing the six months of police academy training and various programs can an officer graduate from the police academy.
Cadet
Cadets are officers who are still training to become recruit officers.