The Nissan Motor Corporation was established in the year 1933. The company is of Japanese origin and Aikawa Yoshisuke is the founder of the company. In the 1980s, the company exhibited poor performance and by the end of 1998, the company was on a verge of bankruptcy due to the declined sales and poor margins.
The company was in debt of an amount more than twenty million dollars. The company was under extreme pressure from the creditors. While making efforts for the resurfacing and coming out of bankruptcy, in the year 1999, Nissan made a professional alliance with Renault, which is a company of French origin. In this article, we will discuss the Nissan corporate hierarchy that is prevalent today.
The common strategic management structure of Nissan and Renault was founded on 28th march, 2002. Nissan holds about fifteen percent of the Renault shares and Renault holds about 43.4 percent shares of Nissan. Currently, Nissan manufactures vehicles in twenty countries of the world including Japan. The company offers its products and services in more than 160 countries worldwide. The company basically deals in the manufacture of automotive products and marine equipments. Currently, the company has 155,099 employees working on a consolidated basis and 28,403 employees working on a non-consolidated basis.
The Nissan corporate hierarchy consists of different levels of executives and committees, which are as follows: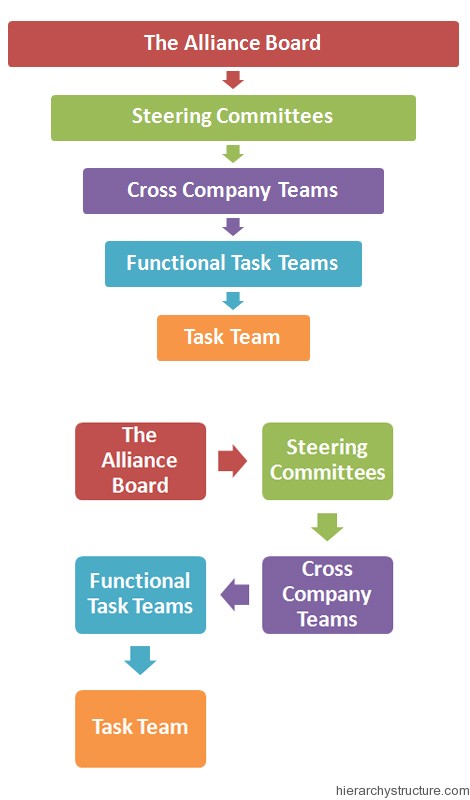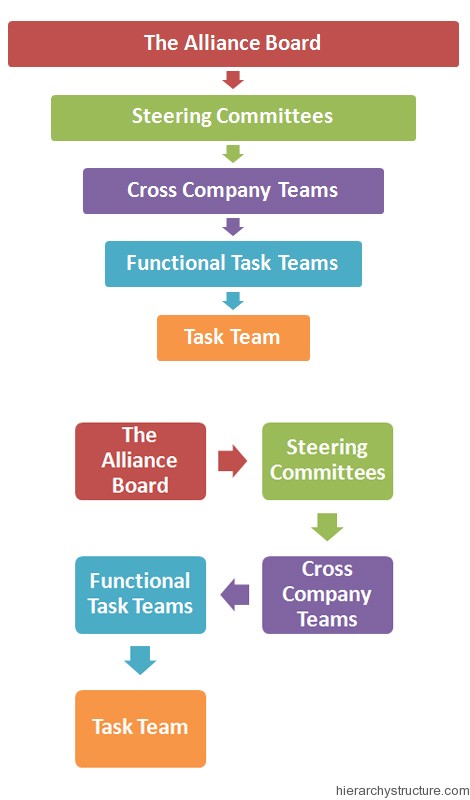 The Alliance Board: The Alliance Board is composed of executive committee members of both the companies namely Nissan and Renault. However, both the companies remain independent in their top management. The function of the Alliance Board is to validate the respective strategic business plans of Renault and Nissan. The board takes decisions on the common activities, and monitors the combined progress.
Steering Committees: The Steering Committees manage the common programs and activities, prepare decisions and recommendations to be submitted at the Alliance Board meeting. They also monitor the implementation of the decisions of the Alliance. In addition, they manage the Cross Company Teams, Functional Task teams and the Task Teams.
Cross Company Teams: The Cross company team is a group of people with expertise in different areas, but working towards a common goal. This group includes professionals from different existing department of the organization such as the Finance department, Operations department, Marketing department and the Human Resource Management. The group requires information from all levels of management. The group has to take various types of decisions such as the strategic decisions, operational decisions and the tactical decisions.
Functional Task Teams: The role of the Functional Task Teams is to support the regular activities of the Alliance bodies, to optimize the strategies in times of need and to make recommendations regarding the variation in strategies.
Task Team: The Task Teams are at the introductory level of the Nissan corporate hierarchy. The teams conduct the projects of the alliances and also support the Steering Committees with the specific tasks.