Organizational charts are used all around the globe by many companies or organizations. There are a number of benefits and reasons for having an organizational chart. Organizational charts prove to be of great importance for business plans, grant applications, it works as a handbook and is also a crucial office document. The primary motive behind preparing and distributing organizational chart is to make everyone in company or organization aware of the chain of command and the hierarchy of the company.
The main thing that you should take into consideration based on the reasons because of which one is creating org chart every placeholder should include name and title, and if there is any need to add more information then try as hard as you can to add as much information possible in the placeholder. But the entered information should be readable.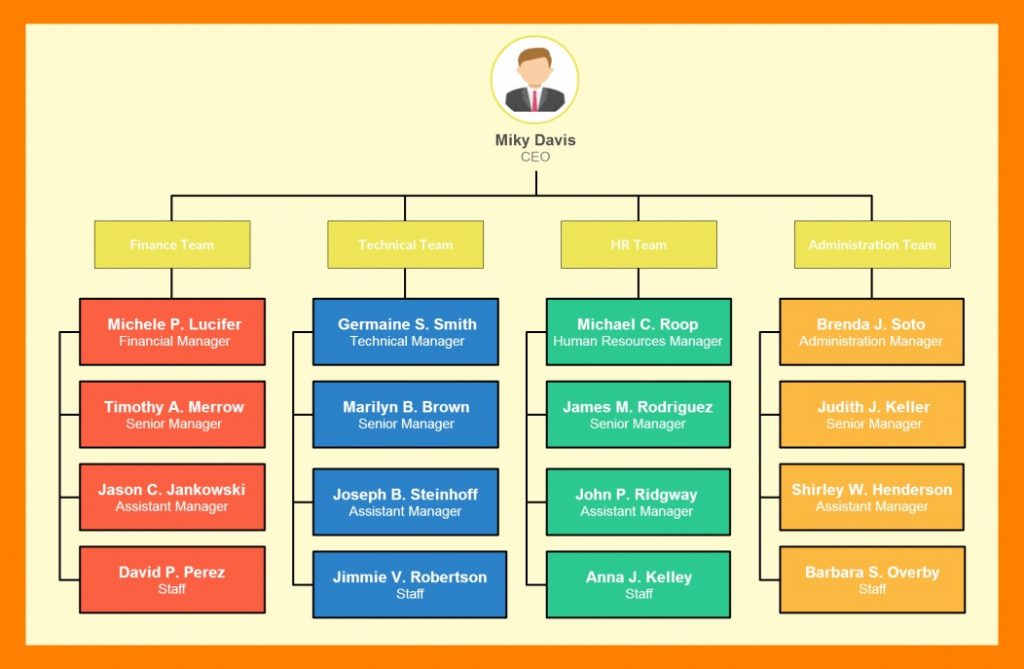 It is true that organizational charts are handy, but in order to understand its full potential, you must be aware of the disadvantages and advantages of having an organizational chart in a company. After having a look at the pros of cons of organizational task you decide whether there should be organizational chart available in every company and organization or not.
Advantages
Now let's start the main topic of this article and focus on the benefits of having organizational charts.
Shows reporting structure clearly: With the help of organizational chart employees can know who they should report to, and whom to approach in case of any problem or while looking for an answer. This role of organizational charts is vital in all organization, but its importance increases in a large organization with various departments and a large workforce. Someone from any other department will not have proper knowledge of names and title of people in other departments and in such instances someone from another department can utilize organizational chart for finding and quickly getting in touch with the required person from another department.
Helps new employees in the organization: Organizational chart helps new employees in the company or organization a lot. New employees can get confused and might face difficulty in finding relevant people in their same department.This can cause unwanted tension and workload. In such instance, the organizational chart comes to the rescue of the new employees and helps them in connecting with other employees in the company easily.
Helps in managing the workload: A well planned and well-designed organizational chart can easily help managers visualize the workload of employees under him or her. This very point is mainly for managers as keeping an eye on everyone and remembering the names of various people from other departments isn't an easy task.
Makes planning a lot easier: Since you will have the option of visualizing the structure within few minutes, you will be able to make future plans. You will be in a position to allocate resources easily and in a better way.
Disadvantages
Doesn't depicts informal channels
Maintaining and updating is a headache