Pennsylvania's political system works according to the government structure known as government of the commonwealth of Pennsylvania and was established by the Pennsylvania constitution.  The political system works in a strictly hierarchical and organized manned and one reason behind this is the fact that it is divided into three wings or branches which are the executive branch, the legislative branch and the judicial branch.
This division is based on the separation of powers and helps the state to conduct its matters in an organised manner. To understand this hierarchy in a little better manner, you can refer to the information that has been given as follows: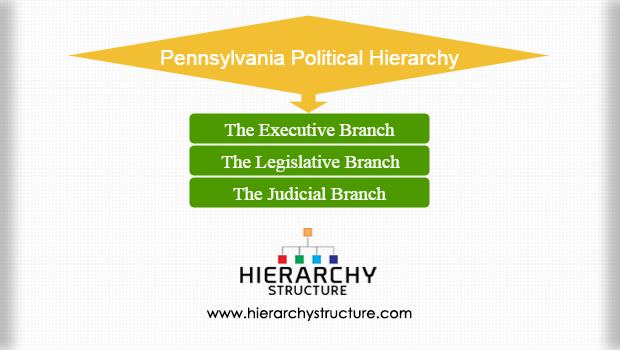 The executive branch
Like in any other state or country, the executive branch is placed on top of the political hierarchy order or system. This branch consists of the Governor who is the head and consists of several departments which ensure smooth functioning of the state's operations.  The governor's cabinet comprises of the directors of various state agencies. This branch is separate from the other two branches and judiciary is independent of it.
The legislative branch
On the second position in the Pennsylvania political hierarchy is the legislative branch. The Pennsylvania general assembly is the bicarmel state legislature which is composed of 253 members.  From these members, the House of Representatives make for 203 members, the senate has 50 members. The Lieutenant governor is the president of the senate.  The legislature meetings are held in the Pennsylvania state capitol in Harrisburg.
The judicial branch
The third branch in the Pennsylvania political hierarchy is the judicial branch.  The state is divided into 60 judicial districts and most of these districts have their own magisterial district judges who mainly preside over small civil claims and minor criminal offences.  Most of the civil and the criminal cases originate in the court of common pleas which is also considered to be appellate courts in the state.
As far as the superior court is concerned, they hear all the appeals from the courts of common pleas. The superior court also has jurisdiction to review warrants for wiretap surveillance.  The commonwealth court is a court which is limited to appeals from the final orders of some of the particular state agencies.  The supreme court of Pennsylvania is the final court of appeal in the state and the judge which serves at the highest position within this court is the chief justice.
Also, know about California Court hierarchy.