Pfizer Inc. is one of the world's largest pharmaceutical companies. With its Headquarters in New York, the company is a leading giant that deals with developing and supplying a wide range of vaccine and medicines in various medical fields like oncology, cardiology, immunology, etc. Basically a research based company; it acquired numerous other pharmaceutical companies along the years making its own business highly extensive and diversified.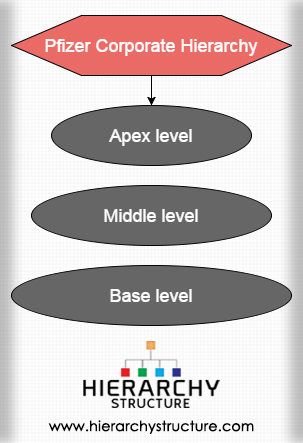 Pfizer therefore being a huge business functions on the basis of a highly efficient system managerial hierarchy that has ensured its continued recognition and development in the international market.
Apex level              
Like many other businesses this corporation also follows an extensive decentralized pattern of functional hierarchy where in the major power remains in hands of the top level and rest only perform functions delegated to them.
It is a kind of an inverted triangular hierarchy where there is a CEO at the top most functional level. He takes all major final decisions, heads the organization and formulates future goals and objectives. He is assisted by a board of directors which consists of head from different departments of the organization. Each of whom has separate specializations and a strong market approach.
Apart from various specialists and physicians, the board also includes the CFO (chief financial officer), the president and various other such officials appointed directly by the CEO. This committee along with the CEO also oversees and supports Pfizer's efforts to ensure that its business system function properly in every country in which it operates around the world.
Middle level
This level includes various company employees who act as a link between the top hierarchy and the workers or medical agents working at the base of the organization.
They are mainly responsible for efficiently executing the tasks and goals given by the higher hierarchy in the best possible manner.
Responsible to the top management directly for the results of the foremen, they also perform functions of supervision and guidance additionally.
Base level
This level involves workers, company agents, base physicians, assistants, etc.
These perform the base level functioning and menial jobs that may require manual labor
They do not have any specific decision making power and hence have to completely follow whatever instructions are passed down to them by the higher hierarchies.
Since many times these people directly work with customers, they may represent the company the directly and hence are very carefully chosen by the higher business management which also maintain a credit system for ensuring productivity in their performance.
It is only due to its tireless leadership efforts and initiatives that this company has managed to bring together under one roof expertise experience of various fields together in a blend helping in success and development. "With this structure, they are able to rapidly capitalize on opportunities to advance the business by increasing support for successful new medicines, forging partnerships with key customers, entering into co-promotion and licensing agreements, investing in new technologies to add value to our core product offerings, and acquiring new products and services from outside the company."