Philippines exercise a well-organized and well structured political system which is balanced by its democratic republic, representative and presidential elements. In nutshell, the government of Philippines can be regarded as constitutional democracy headed by the President of the country.
In the Philippines political hierarchy, the President is both the head of the state and the head of the government and the country showcases a Pluriform multi-party system. The political hierarchy of Philippines cannot be regarded as a vertical hierarchy but instead the country's political system showcases a horizontal hierarchy with three levels – Executive, Legislative and judicial which further are subdivided in a vertical hierarchical format.
The political hierarchy starts with national level political figures and officials which are divided into separate sections for effective execution, which are then followed provincial, city and town level hierarchy.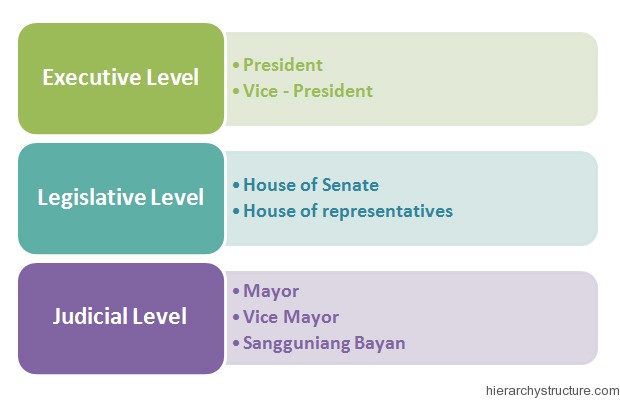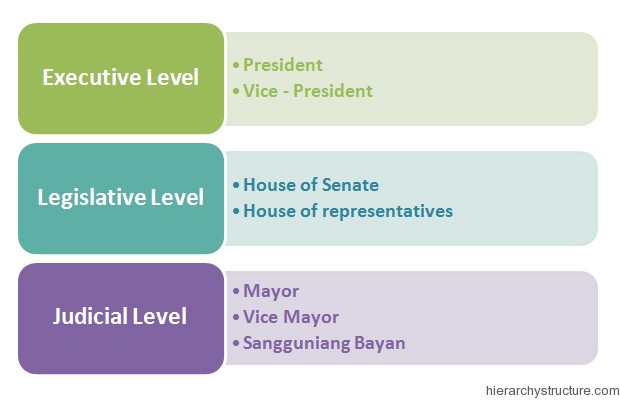 Executive Level
The executive level in the Philippines political hierarchy comprises of the President and the Vice – President. The executive level holds the responsibility and authority forthe day to day administration of the country. This level is responsible for executing the law. The President acts as the head of the state and is assisted by the Vice President in his responsibilities.
The President is responsible for heading the government, overseeing the country's administration, bureaucracy management, foreign policy administration and management and for commanding the defence forces of the country.
The cabinet members & the secretary department also come under executive level of government and these are also headed by the President.
Legislative Level
This is the second level in the Philippines political hierarchy and comprises of two houses – House of Senate and the House of representatives. The House of Senate is headed by Senate President and House of representatives by Speaker.
These two houses work at the national & state level and are responsible for passing, amending and repealing laws & regulations for the people of the country.  Apart from developing and amending laws, these two houses are also responsible for tax management, tax rates and for budget & money bills.

Judicial Level
The judicial level comprises of the system & hierarchy of courts and is responsible for interpreting & applying the law throughout the country. The topmost levels in the judicial system are acquired by the Supreme Court of the country and then are the other courts in the hierarchy. These courts are – Court of Appeals Sandiganbayan, Court of Tax Appeals Ombudsman and other lower courts of state & district level.
After the national level political arrangement lie the Provincial level political hierarchy. These also work in a similar manner as national level government does. This political hierarchy is headed by Governor, Vice Governor and SangguniangPanlalawigan Members.
The politics of town and cities of Philippines is headed by Mayor. The Mayor is followed by Vice Mayor who is followed by Sangguniang Bayan Member. These levels are then followed by Barangay, Barangay Captain and Barangay Kagawad Members.
Know more about British Political Hierarchy Click Here