Qantas Airways Limited based in Australia is one of the oldest internationally working airlines. Today it stands at the third position in terms of having the largest fleet size and holds about 65% of share in the Australian domestic market. Originally made from the acronym QANTAS for "Queensland and Northern Territory Aerial Services", and it is now nicknamed "The Flying Kangaroo" and is also one of the founding members of Oneworld airline alliance. With a total turnover of more than 15000 million dollars, it is one of the largest operating airlines present in the world today, thereby making insights into its personal Management hierarchy an important aspect.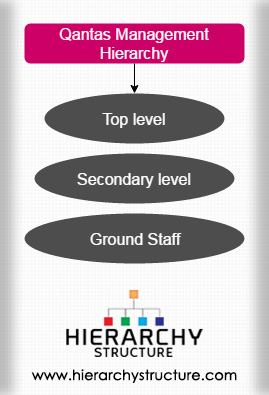 Top level
Like most of the multinational corporations across the world, Qantas also has an exclusive system of divisional functioning in its management hierarchy. At the very top is a board of directors comprising of not more than 8 members headed by a president. The team of board is also a functional part of the apex level which is divided into various committees like that of nominations, audit, remunerations, health, environment, security etc. "Formally separating the management of Qantas International and Qantas Domestic will ensure that we can independently run each business management according to its specific priorities and market conditions." This also promotes division and specialization.
Also each division in the company is supposed to have a different CEO. Further there are other non executive directors present on the board as well that ensure proper functional efficiency.
Secondary level
This level comprises of the business executive team that looks after different policies, strategy executions and bringing plans given by apex level in a concrete form of action at the basic level. Apart from working as the links between the ground staff and the face of the company, these people also make possible various technical actions that are necessary for an airline to function. It is basically divided in about 12 departments comprising of legal affairs, finances, jetstar, domestic, loyality, resources, technology & IT, etc. These include managers and air professionals that perform all tasks that require proper prior skill development and which would not have naturally been performed by the staff working at the ground level.
Ground Staff
This is the lowest degree of business management hierarchy which consists of the people who work as the ground staff at airports, planes, runways, etc. It is only due to the hard work and diligence of these employees for support system; that the airlines is able to work efficiently and hence develop at an exponential rate.
The Qantas Group is committed to complying with all applicable laws and regulations, and to conducting business with the highest levels of ethics and integrity. It has been long proven that Qantas has an appropriate corporate governance framework to ensure the creation, protection and enhancement of a shareholder's value making it one the most efficiently functioning international airlines working at such a huge level only due to its professional mangers and a keen, altruistic attitude from the employees divided sufficiently in the ranks of managerial hierarchy.