The Queensland Police Service is the police department responsible for policing the state of Queensland in Australia. It received its official name in the year 1990. The headquarters of Queensland Police Service is located in 200 Roma Street, Brisbane. In the year of 2014, the Queensland Police Service completed 150 years of service. This department functions in a particular hierarchy in order to carry out the organizational functioning smoothly and maintain a flow of work and information. The hierarchy is given below in an descending order: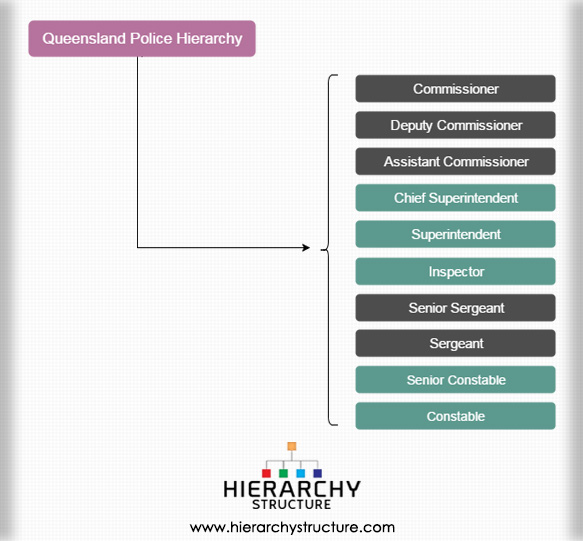 The commissioner is the highest ranking officer in the police service of the state of Queensland. He is the head of the police activities carried out all over the state and is the representative of the police of Queensland when it comes to the entire police force of Australia. Any important decision related to the activities of the state police is taken after his approval.
He ranks immediately after the commissioner. He is responsible for giving orders during emergencies by coordinating with the Commissioner.
The assistant commissioner is junior to the Deputy Commissioner. His duty is to assist the Commissioner in his duties and also to head important missions and administrate the police force of the state.
The Chief Superintendent is the head of all the superintendents of different divisions. They are often given charge of certain specific cases.
This is a rank which is senior to an Inspector and junior to the Chief Superintendent. The inspectors are supposed to report about all the major updates as well as emergencies to him.
An inspector is the main person who looks after a particular criminal case individually. Inspectors mainly head the on field investigations that take place for a particular case.
Senior Sergeants are team leaders of Sergeants and usually work in specialist areas of the police department.
The sergeant gives commands to the senior constables' at large police stations and is in charge of sectors with several police stations.
The Senior Constable is the head of all the constables of a particular police jurisdiction. They take reports of all the Constables and are responsible for giving them orders.
The constable is the junior most rank but the most number of staff in the police force are constables. They are the first ones to get into action if anything happens.