Career in sales has always been an eye catcher for those with excellent communication skills, ardent sales skills and a lively charming personality. The major purpose of the sales job is to provide clients with a help to compare, contrast and understand the best options available while purchasing a desirable product and to ensure that the decisions work successfully for the client in order to maintain a long healthy relationship between the company and the client.
Sales Career Hierarchy includes various ranks and titles depending upon the professional's experience and knowledge (also depends on the company sometimes). The sales career hierarchy is described briefly as below in this article starting with the lowest rank and ending with the highest one: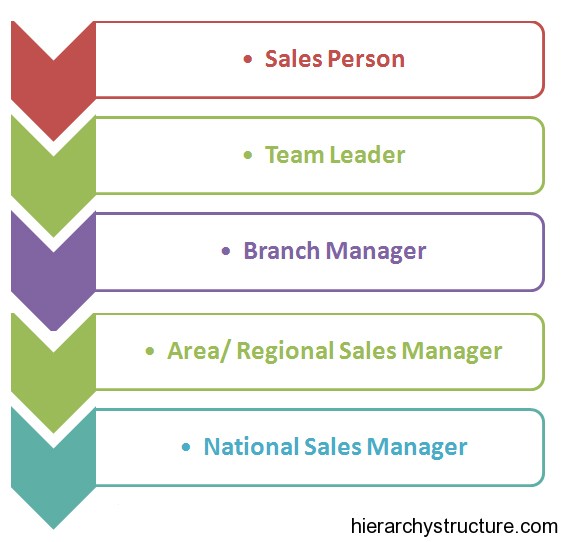 Sales Person
This is the lowest rank in the sales career hierarchy. Sales persons / professionals are always required in any organization. Mostly professionals are hired for this job position even if they possess zero experience in the required field. They are front line associates directed to follow the orders of their team leader.
They mostly work on target base in organizations and perform field work for the organization. The candidates at this level, who are looking forward for career growth, must initially focus on creativity and communication. These two factors will help them to grow vertically in their career graph.
Team Leader
This is the second lowest rank in the sales career hierarchy. Sale professionals having some vital experience and knowledge are promoted to have the title team leader. These professionals are provided with a sales team and they work directly under the respective branch manager in the organization's outlet. Their task involves fulfillment of the targets and goals provided by the company.
Branch Manager
This is the rank next to team leader but subordinate to the area sales department manager. Major organizations hold their outlets in various places to manage their work according to the specified areas. This outlet, referred normally as a branch, is handled and managed by an experienced professional, a branch manager. They are directed to report directly to the area sales manager.
Area/ Regional Sales Manager
The professional rank next in the hierarchy is area sales manager also referred as regional manager. These professionals fulfill the tasks of leading a specified area's sales team including all the company's outlets within the provided territory. They report only to the national sales manager. Such a professional is responsible to oversee all the sales outlet of the provided area ensuring the fulfillment of the targets provided at the regional level.
National Sales Manager
The highest rank in the sales career hierarchy is national sales manager. They are also referred as chief sales executive or sales director in the corporate sector. A national sales manager is directed to report only to the CEO of the company. Their key duty involves developing new innovative strategies in an effective manner and setting up of goals for the sales team for company's profit.