The Police Service of Scotland is the law enforcement agency of Scotland. It was formed in 2013 and consists of a total of 23,000 employees, including 7,261 full-time officers and 939 special constables. It is headquartered in Randolph field, St. Ninians Road, Stirling. It is overviewed by the Scottish Police Authority and below given is the hierarchy structure of this agency on which the entire operations function.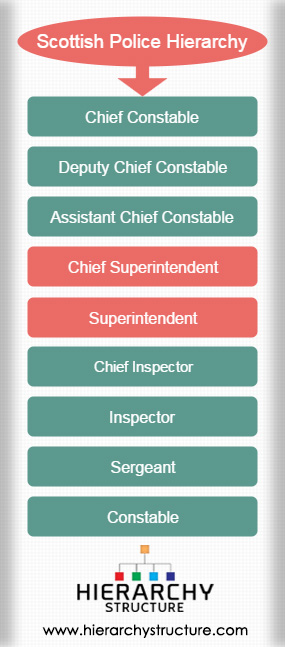 The Chief Constable is the senior-most authority in the Police Hierarchy of Scotland. He looks after the overall functioning of the police department and takes important decisions and constructs various policies. He is the authority answerable for the functioning of the entire Scottish police force.
The Deputy Chief Constable assists the Chief Constable and takes care of implementation of Chief Constable's commands. He takes care of the ranking and posting of the officers junior to him.
Assistant Chief Constable
He assists the Deputy Chief Constable and can take his responsibilities in case of absence. He looks after an entire region and is in charge of law enforcement in the assigned region.
The Chief Superintendent takes care of a jurisdiction as a whole. He looks after the implementation and execution of plans which will promote the development of law enforcement and Scottish court.
The Superintendent of Police looks after major criminal cases which have been outstanding to be solved since a very long time. They sometimes take care of multiple police stations in case of crucial situations.
The Chief Inspector reports to the Superintendent by taking the updates of the case from the inspectors. He looks at the overall law enforcement of the jurisdiction which he is supposed to take care of. The Chief Inspector appoints Inspectors on cases and also submits the progress to his seniors.
The Inspector is the first person to look at a registered crime case. He undertakes the initial investigation of a particular case which has been registered at the Police station.
The Sergeant takes care of commanding the constables of the police station at which he is appointed. He sometimes also commands all the constables of a particular region, mainly in case of emergencies or important days.
The constables are the junior most officers in the Police Hierarchy of Scotland and they are the ones to be there on field work most of the times, be it regular patrolling or emergency situations.