Scrum is a popular framework which is used for implementing agile and proves to be a great catalyst for boosting the morale and productivity of teams as well as improving the development process as a whole.  A scrum team is basically the team of workers who work on this framework and produce results for companies or organizations. There is a certain hierarchy structure that is followed within the scrum team and if you wish to know more about the same, you can go through the information that has been given as follows.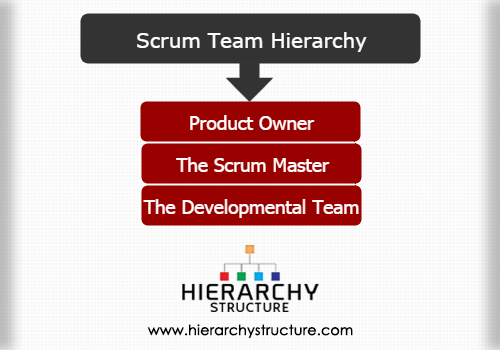 Product Owner
The topmost position in the scrum team hierarchy is that of the product owner.  Product owners are basically the champions for the final product and are mainly focussed on understanding the requirements and needs of the market as well as the business demands.  They are responsible for prioritizing the work in such a way that it can be executed or followed by the engineers working within the scrum team.  Product owner does not work like a project manager but works to ensure that the team delivers the best value to the enterprise.
The Scrum Master
On the next position of the hierarchy of a scrum team comes the position of the scrum master. The scrum master is basically the champion for scrum within the team and is responsible for coaching the team, the product owner and the business development as a whole. The scrum master tries to balance activities and optimize the delivery flow. He is the facilitator in chief who schedules resources and makes sure that the sprint planning, stand up and spring review related tasks are being done in the best possible manner. They also seek to resolve impediments and distractions for the team of developers.
The Developmental Team
This is the third highest yet very important part of the scrum team hierarchy and is a level which includes all the development engineers. The scrum or development teams are the champions for the sustainable development process and each of them consists of a tight-knit group of 5-7 members. Each team member has a different skill set and area of expertise and usually cross-train one another so as to impart skills and knowledge throughout the team.  This means that they must help each other for a successful sprint completion.  They must work together with a 'we' attitude and should work closely with the scrum master as well.