A shoe company is basically a shoe manufacturing firm which designs and manufacturers various kinds of shoes and other shoe products. A shoe company may either produce shoes for males, females, kids or for all and are responsible for a number of tasks besides designing and producing.
A shoe company is a full-fledged business entity with separate departments for separate tasks such as manufacturing, designing, sales, marketing, accountancy etc. Based on this, the job positions may be divided into different departments and a set hierarchical structure. The following is a detailed account of the Company hierarchy followed in a shoe company.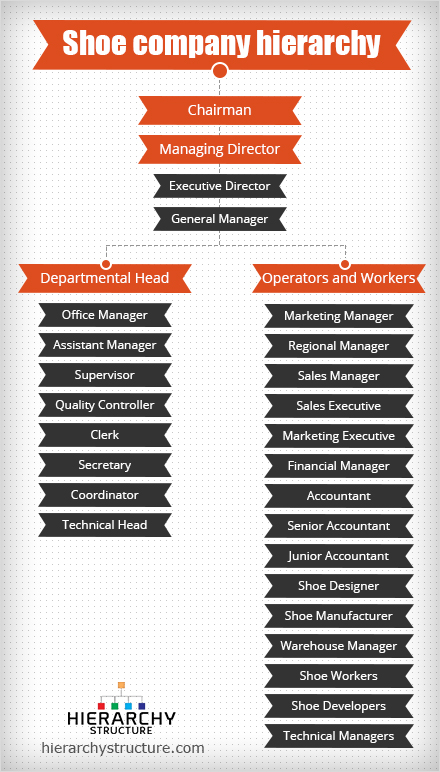 Chairman
The owner of a shoe company is also referred to as the chairman who sits on the top most position of the company and is the one who appoints all the other members of the managerial team. The chairman is also often the director or president of the board of the company.
Managing Director
Managing director or MD is that important link in the hierarchical Structure chain of positions who holds the highest important position as far as operations, management and administration is concerned. The MD supervises the different departments such as financial, marketing and sales. Within the managing director fall other managerial positions which are given as follows:
1. Executive Director
The Executive director or ED works under the managing director or may sometimes even report to the chairman of the company.He/she holds an important administrative position and looks after the entire process of execution of shoe production.
2. General Manager
The general manager may be required to handle a variety of tasks and duties such as heading different departments, establishing a communication and coordination between them and seeing to it that each goal is reached within the given time frame and budget.
Departmental Head
Each department is headed by a department head or manager who manages the activities of that particular department. The following are the different job positions that fall under the departmental manager
Office manager
Assistant manager
Supervisor
Quality controller
Clerk
Secretary
Coordinator
Technical head
Operators and Workers
Each department has many job positions within it and the following are the main ones:
Marketing manager
Regional manager
Sales manager
Sales executive
Marketing executive
Financial manager
Accountant
Senior accountant
Junior accountant
Shoe designer
Shoe manufacturer
Warehouse manager
Shoe workers
Shoe developers
Technical managers