In Singapore legal hierarchy, the full Judicial power is dependent on the Supreme Court and the Subordinate Courts by the Constitution. The Judicial Commissioners, Chief Justice, High Court judges and the Judges of Appeal are assigned by the President to the candidates suggested by the Prime Minister. In Singapore legal hierarchy, the common law is practiced in the legal system, where the decisions made by the higher courts provide necessary precedents upon the courts of lower or equal status in their jurisdiction.
The Singapore legal hierarchy is briefly explicated as below in chronological order means starting with the highest level court of the hierarchy and ending with the lowest one: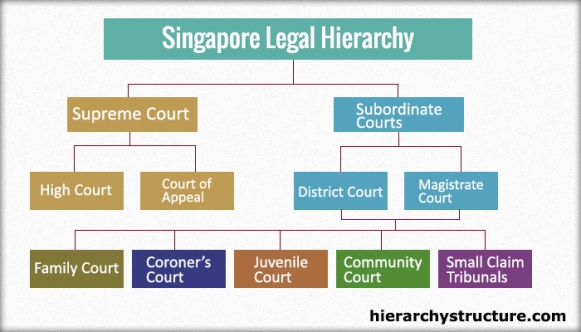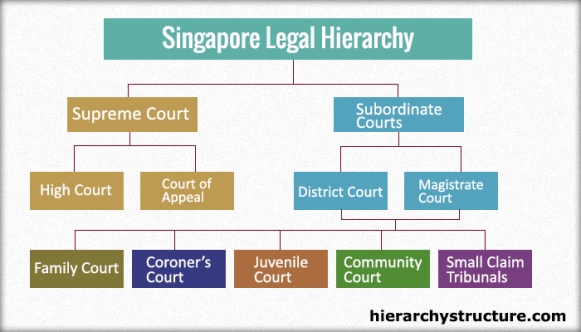 Supreme Court – In Singapore legal hierarchy, the Supreme Court is the top level of the court system. The Supreme Court includes the high court and the court of appeal.
High Court – The high court hears both criminal and civil cases. In criminal cases, the high court hears cases related to death penalty and with imprisonment of more than 10 years term.
Court of Appeal – The Court of Appeal hears the appeals related to criminal and civil cases which are from the high court. The Singapore Court of Appeal consists of three judges, though; some appeals might be heard by the two judges. For special reasons, the number of judges can be increased.
Subordinate Courts – In Singapore legal system hierarchy, the Subordinate Court is among the two levels of the judicial system. The Subordinate Courts consists of District Court and Magistrate Court.
District Court – The District court hears issues related to both civil and criminal cases.
Magistrate Court – The Magistrate court hears issues concerning civil and criminal cases.
Both the District and Magistrate Courts oversees the matters related to other lower courts such as:
Family Court – The family court hears cases related to families. It also hears issues concerning personal protection of husband or wife as well as violence against child. It hears issues related to divorce proceedings like custody of children, maintenance of wife and children, division of marital properties. It also hears cases related to adoptions.
Coroner's Court – The Coroner's Court holds investigations to make sure about the cause of death of a person and also sees if anyone is responsible criminally or not.
Juvenile Court – The Juvenile court hears the offences of the persons which are below the age of 16. The Juvenile court is authorized with several options to deal with an offender who is a Juvenile. It also deals with the children who are beyond their parent's control.
Community Court – The Community Court hears cases such as, young offenders (aged 16 to 18), suicide attempted cases, offenders with mental disabilities, cases of family violence, neighborhood disputes, carnal connection offences which are committed by young offenders, cruelty towards animals etc.
Small Claim Tribunals – The cases related to sale and purchase of goods, damage of properties, in which the claim is below $ 10,000 such cases can be claimed in small claim tribunals.