Singapore or Republic of Singapore is basically a city state having a governing structure that is patterned totally on the British system of the Parliamentary government. Singapore political hierarchy has only one level of government means the local government and national government are one and the same.
This form of the government reflected the country's unusually modest total population and small area of 2.6 million. The President is the head of this political hierarchy. The entire Singapore political hierarchy is being described below in a descending order means the ranks with utmost power and authority are placed at the top of the ladder while the one with lower authority and power are placed at the end.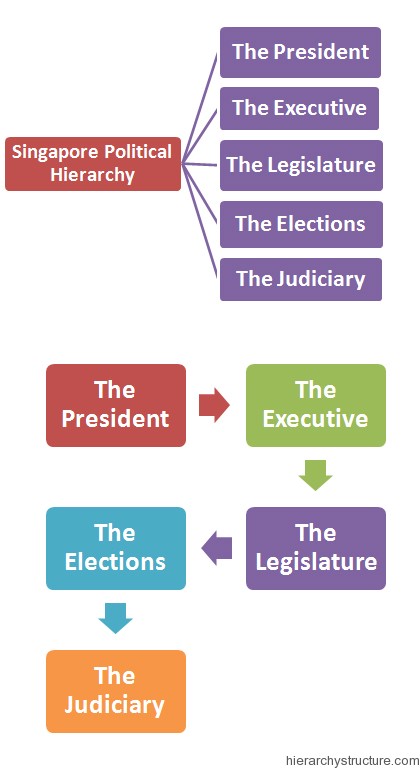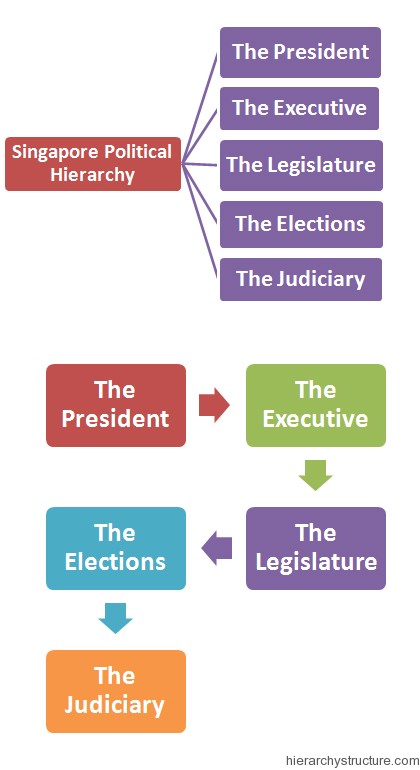 The President
The Executive
The Legislature
The Elections
The Judiciary
The President
The highest rank in Singapore political hierarchy is of the President. According to the constitution of the Singapore, the President is elected for a time period of four years and is elected by the Parliament. In the exercise of his duties, the president acts explicitly in accordance with the advice of the cabinet or of a minister acting under the authority of the cabinet. The President uses his discretion in appointing the Prime Minister.
The Executive
The Constitution demonstrates effectively that the executive authority of Singapore political hierarchy is vested in the president and is further exercised by him or the cabinet or any minister authorized by the cabinet, subject to the provisions of the Constitution. The cabinet directs and controls the government and is responsible to Parliament. The responsibility of attorney general is to provide time to time legal advice to the government and also has the discretionary power of initiating, conducting, or terminating offence related proceedings.
The Legislature
The legislature body of the Singapore political hierarchy incorporates the President and the Parliament. This is a middle level rank in the hierarchy. To be a part of this rank, members are required to be at least 21 years old and on the current register of electors. Parliament convenes at least once a year, scheduling its meetings after the first session is summoned by the president. The British pattern is followed in all the parliamentary procedures. As per this pattern all three readings are deliberated for all the bills and simple majority works as the criterion for passing the bill.
The Elections
This is the next rank in the Singapore political hierarchy. The electoral system is based on single-member constituencies. The electoral rule eliminates the parliamentary representation for minority parties and also encourages the parties who have the candidates that can win pluralities in more than one constituency.
The Judiciary
Singapore's judicial power is vested in the Singapore Supreme Court, consisting of a chief justice and an unspecified number of other judges. All of them are appointed explicitly by the President. This is the lowest level in the Singapore political hierarchy and deals with the enforcement of law.