Every IT company or a software based company has a separate section of professionals who belong to the profile of software testing.  Basically, software testing is an investigation which is conducted to find out about the quality of the products or software being produced or run by the company. This helps to reduce risks, improve quality and thereby lead to a more profitable state.  There are many job positions involved for the process of software testing and the department follows a hierarchical job position approach. The following is a detailed software testing job hierarchy.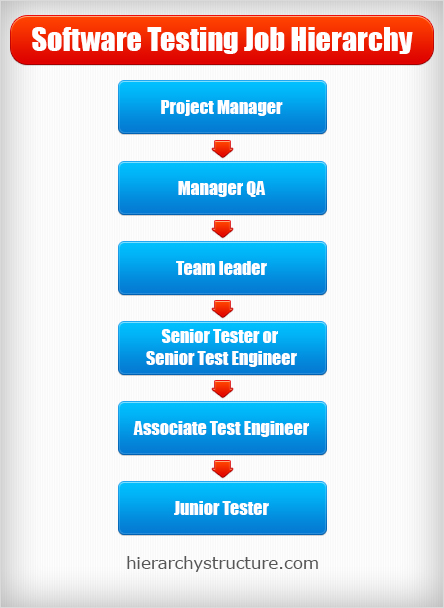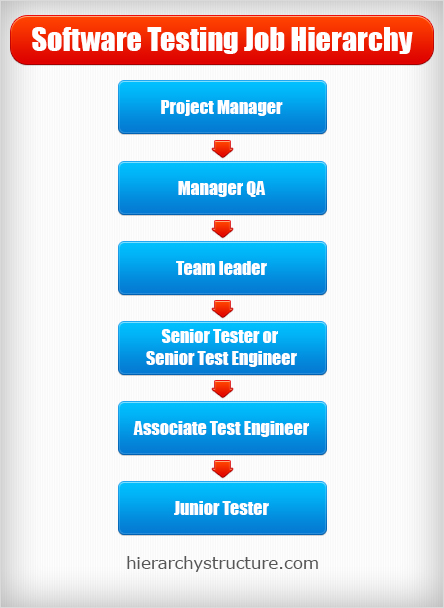 Project Manager
The project manager or the delivery manager holds the topmost position of hierarchy in the software testing jobs and is also responsible for the proper running, planning,implementain and delivery of testing results to the company or other seniors. The project manager has many duties such as resource management, supervision, automation framework development and automation architecture designing.
Manager QA
Manager QA comes second on the software testing job hierarchy and is that individual who is responsible for analyzing the project or testing procedures and advising the project lead about the adherence or the project process etc.
Team Leader
A team of testers are employed to carry on particular testing jobs and the professionals who leaders the team is called the team leader who reports to the project manager. He/she provides onshore and offshore coordination, designating of duties, reports results, executes test cases and performs a number of other duties as well.
Senior Tester or Senior Test Engineer
4th on the level of hierarchy of a software testing job comes a senior tester or a senior test engineer.He/she is the expert and experienced tester who does most of the technical work as per the budget and case requirements. He/she participates in peer reviews as well as lead reviews and also prepares the test plan documents.
Associate Test Engineer
The associate test engineer is also a member of the testing team and is responsible for manual testing of web and windows based applications. He/she analyses the functional specifications and writes manual test cases as well.
Junior Tester
The junior tester falls at the bottom of the pyramid of the software testing job hierarchy is may be the most inexperienced engineer out of the group. He/she performs important duties but is still in the learning phase and may take instructions from seniors to get testing related works done.