Any country's political hierarchy generally consists of a system revolving around the politics and government of that government. South Africa's politics took its current form around 1990s era. South Africa is basically a multi-party parliamentary democracy.
In this system the constitutional powers and authority is shared explicitly between president and parliament. So if we consider the appropriate South Africa political hierarchy then the structure can be considered as below starting with the top most power and authority holder in South Africa and then proceeding forward in descending order.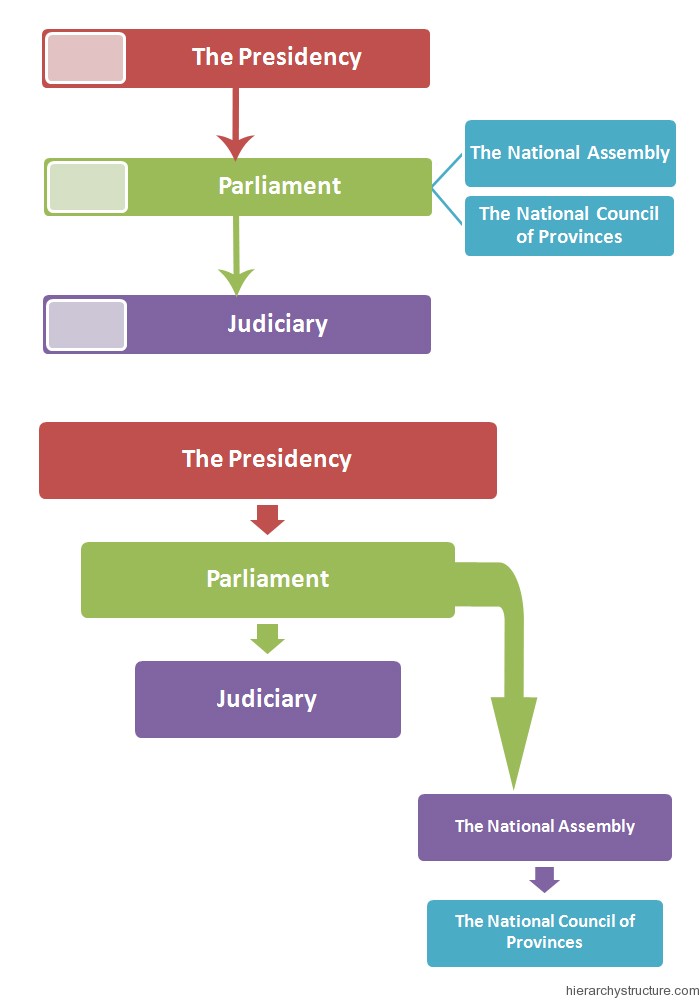 1. The Presidency
2. Parliament
The National Assembly
The National Council of Provinces
3. Judiciary
The Presidency
The honorable President of the South Africa is the head of the government as well as head of the state and works under the respectable constitution of the South Africa. The President is appointed and elected by the members of the National Assembly and is normally the leader of the biggest party that has been the African National Congress since 1994, after the first non racial elections. The President's time is limited to a time period of five years according to the constitutional limits. The first ever President of South Africa elected under the new constitution was Mr. Nelson Mandela. The incumbent President is Mr. Jacob Zuma.
Parliament
The Parliament of South Africa is basically the South Africa's legislature. It has gone many transformations as a result of South Africa's tumultuous history. From the era of 1910 to 1994, the Parliament was elected majorly by South Africa's white people till the advent of universal suffrage when first non racial elections were held in 1994. Under the constitution guidelines, the Parliament of South Africa now incorporates two bodies via the Senate and the National Assembly. The Senate was then replaced by the National Council of Provinces.
The National Assembly – The National Assembly is the lower house of the Parliament of South Africa. This is located in Cape Town, Western Cape Province. This political body basically consisted of approximately four hundred members. These members are elected every five years by using a party list proportional representation system. This political body is presided over by a Speaker assisted by a deputy Speaker. The current Speaker and Deputy Speaker of South Africa are Mr. Max Sisulu and Mr. Nomaindia Mfeketo respectively.
The National Council of Provinces – The National Council of Provinces is also referred as NCOP. NCOP is basically the upper house of the Parliament of the South Africa. This body came into full existence after the Senate political body got replaced by NCOP in the year 1997. But this political body is still very much similar to that earlier body. Its major purpose is to represent the government of the provinces rather than directly representing the people of the South Africa.
Judiciary
This last level in the South Africa political hierarchy is judiciary that deals with the law enforcement in the country.
know about South African courts hierarchy