A taxi company is a kind of a business or organization which provides taxi services to clients on an order or request basis.  These days' taxi businesses have become very common with the advancement in technology and advent of bookings through mobile phone apps. Within a taxi company, a proper hierarchy of job positions is followed.
A taxi company not only consists of the driver running the vehicles but also several other managerial executives and others. To understand this hierarchy of a taxi company in detail, you can go through the following given information.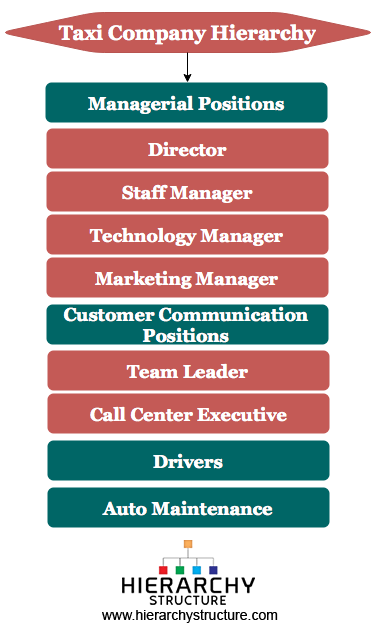 Managerial Positions
The management of a taxi company is the department which handles the operations like accounts, finance, advertising, marketing, human resources and policies etc. The individuals working as managers ensure smooth functioning of the business which is divided into many sections. The following are some of the main job positions:
Director-the director who is also sometimes referred to as the general manager is the main manager and senior most administrative head of the company, to whom all the other managers report. He is in charge of the fleet of vehicles, the call center as well as the automobile shop.
Staff manager-the staff manager reports to the director and is responsible for handling the entire staff of the office or call center.
Technology manager-to handle the mobile app and other technological aspects of the business, a technology manager is hired.
Marketing manager-is responsible for ensuring proper advertising and marketing of the business.
Customer Communication Positions
Under the managerial level jobs comes the section of customer communications which has employees that handle customer requests, queries, questions and other such matters. These may either work as call center executives or technology experts. The following are some of the positions in this department.
Team leader-he/she handles the team of call center employees and makes way for effective communication with customers.
Call center executive-he/she communicates with customers and handles their request, queries and questions etc. they also talk to the cab drivers to inform them about requests and pickups etc.
Drivers
The drivers form the backbone of a taxi company and the entire functioning is mainly dependent upon them. Their responsibility is to safely drive passengers, pick them up, drop them off, be on time and collect money from the clients.
Auto Maintenance
Another important part of a taxi company is the fleet of auto maintenance employees who repair, service and maintain the taxis.  They work at a separate warehouse or work center and handle the functioning of all vehicles.